Herald Rating: 4/5
Address: 37 Fred Thomas Drive, Takapuna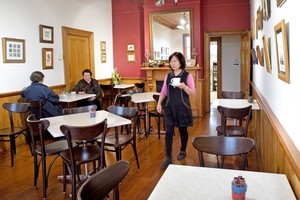 We came here because we were visiting the Wood Sculpture Live exhibition created by chainsaws.
Parking was no problem in the centre's carpark.
We walked in and immediately thought it was nice to be able to sit with all the art works around to look at. As it was a fine day we sat outside and were able to further admire the sculptures.
The most unusual thing on the menu was home-made gnocchi with blue cheese, spinach and pine nuts ($14).
We ordered the gnocchi, creamy mushrooms with bacon and toasted bread ($14.50), a BLAT ($12.50) and a chicken Caesar salad ($13.50). All were very good if the speed with which they were demolished is anything to go by.
The service was good.
The coffee was just right.
We recommend if you come here you check out the galleries after your meal, they're well worth a look.
Overall we thought the Lake House, in itself a lovely historic building, is a relaxing and inspiring location.