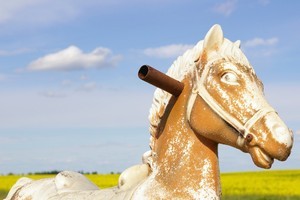 The rocking horse I rode as a kid at a playground in New Plymouth has gone. This beloved horse at Brooklands Zoo hasn't even been put out to pasture. He's been culled, pretty much.
The five-seater stallion - that gave tens of thousands of kids hours of joy for more than 40 years - has been taken off its rocker and thrown in a shed all because it no longer meets NZ safety standards.
My little girl Mia had a hoot on Horsey when she rode him with her cousins last Christmas. But now he's gone.
So a few kids - okay, probably many over the years - have been thrown across the playground as they ran behind this fiery stallion as it rocked back and forth. And apparently some kid recently received facial injuries from getting hoofed in the head.
But kids should be taught not to walk behind a horse (be it a rocking horse or a real one). It's a golden rule like not going swimming on a full stomach.
Oh dear, poor Horsey.
Similar to that ridiculous notion of limiting littlies' rugby scores, the loss of Horsey is yet another case of mollycoddling our kids in the extreme.
I'm not one for being irresponsible. In fact I'm probably overly protective when it comes to things like swimming pools, locking up dangerous chemicals and liquids, and supervision around busy roads. You know - life threatening things. But playgrounds are for letting loose, trying things, and having fun. And in the fun stakes Horsey was up there with the pirate ship at Fantasy Land.
Horsey was a victim of an independent playground audit that found he did not comply with the safety standards.
"We had no choice but to remove [him] if Brooklands Zoo's playground is to achieve compliance," said Manager Parks Programmes Steve McGill.
However, Mr McGill went on to reveal something far more sinister.
Apparently, rocking horses around New Zealand have been gradually culled from playgrounds in recent years.
So I'm being dramatic, but what will be next? A fence around every set of swings? Resistant seesaws to protect the little ones from getting hit in the chin as it bounces back up off the ground? Or perhaps no more spinning roundabouts because the kids are starting to hallucinate from the dizziness?
There are far more risky playground toys out there (not that I want these removed either). I tell ya, there must have been a concussion, or at least a broken bone or two from the push trains at Point Chev and One Tree Hill playgrounds.
The kids hurtle around those tracks, not giving a hoot who's standing ahead of them.
Poor old Horsey. He wasn't dangerous, he was just giving kids the ride of their lives.