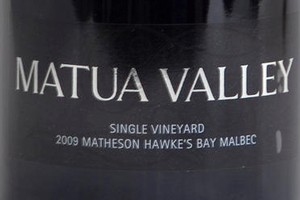 Malbec is a little-known, little-grown and not-so-often purchased varietal in New Zealand. But distinguished local wine royalty Dr Neil McCullum, of Dry River and now Kidnapper Cliffs, says it deserves high praise.
"Malbec has genuine personality, and I had lovely times as a guest in Argentina [where the varietal is popular] ... it wrecked my tolerance for average malbec."
His views are shared by Waiheke's Stonyridge proprietor, Stephen White, whose Luna Negra malbec is a classy wine with oodles of personality and robust flavours and has local and international awards, along with a rapidly growing following.
Other New Zealand wineries delivering mouth-filling malbecs include Brookefields, C.J. Pask, Coopers Creek, Fromm, Newton Forrest, Miro and Kirkpatrick Estate, to name a few. The geographic mix is interesting given that malbec usually requires a regular, warm climate and tends to ripen early.
Hawkes Bay is well represented, Waiheke is in there too, as is Northland, West Auckland, Matakana, Waikato, Marlborough and Gisborne.
Malbec is a bit like a wallflower but not exactly cutting a swathe through everyone else on the dance floor.
A lower-tier traditional red wine grape of Bordeaux, it is somewhat unfashionable and often its wonderful blending components are no longer required, having been overshadowed by those major players, cabernet sauvignon, merlot, cabernet franc and, to a lesser extent, petit verdot.
Part of the problem for the French, especially in Bordeaux, is that malbec can be a sensitive soul and often doesn't produce big enough yields. In these tough economic times volume is vital.
So Argentina now leads the charge and has a formidable reputation for creating complex, intense, muscular and rich berry fruit flavours that can stand alone and be very ageworthy, or add ripe sweet characters to claret-style wines.
Says McCullum: "Malbec with Argentinian beef is a marriage made in heaven. It has genuine personality and a graciousness that lends itself to a cool climate. Sadly it's not grown much in New Zealand but it should be, we need to treasure the difference."
Malbec is very much a food wine and adores red meats and is also perfect with the likes of hamburgers or sausages.
Recommended
2009 Kidnapper Cliffs Malbec $45
Has a dense red colour with a striking violet edge. Smell the brambles, dried herbs, rose, jasmine and leather and enjoy the soft suede blueberry texture. Pure, elegant and moreish.
2009 Matua Valley Single Vineyard Malbec $70 cellar door
This uses Hawkes Bay grapes delivering a rich generous wine with loads of spicy red fruit, blueberry, cigar, cedar and tobacco leaf flavours. A major trophy winner at the Easter Wine Show.