An Auckland couple respect the heritage of their 1950s home.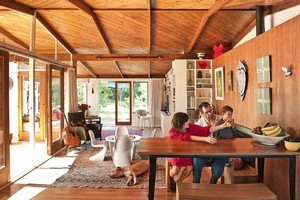 After visiting numerous open homes, jewellery designer Charlotte Penman and partner Ulric Raymond were no closer to finding a home - until they received a phone call from Penman's great-aunt Mary.
She had read a Canvas magazine article about a home in Takapuna designed by Group Architects, whose progressive designs were characterised by exposed timber, open-plan interiors and a focus on indoor-outdoor living. Penman's great-grandfather had been involved with The Group and her grandfather was a member. Her great-aunt Mary remembered sweeping up after them as an 18-year-old when the Takapuna house was being built in 1951.
The good news for Penman and Raymond was that the homeowners wanted to sell. "We hadn't considered living on the North Shore but Mum convinced us to go and have a look," Penman says. "We felt shy about entering the home as it wasn't officially on the market, but the owners, a lovely elderly couple, were welcoming. They had lived there for more than 30 years, testament to what a great spot it is."
The home is typical of the style of The Group, who wanted to achieve a uniquely New Zealand architecture as opposed to referencing this country's colonial origins.
"The original concept of The Group was to create an architecture that would suit our climate and lifestyle and represent us as a people," Penman says. The home's entrance is through a wide deck with a low-pitched ceiling that was inspired by traditional wharenui. Inside, a room divider splits the open-plan living area from the main bedroom, 21-month-old Marcel's bedroom, Penman's jewellery studio, a small office at the end of the hall and a bathroom. The living area opens out onto a patio and lawn covered in mature fruit trees.
When the couple moved in four years ago, they thought about the many changes that could be made. "Whereas at first we wanted to do structural changes, after spending time living here we chose to keep the original layout to honour its heritage," Penman says.
"When we started the restoration process we were really conscious of the house's history. There was an abundance of wood so we decided to contrast this with features of white to offset the timber, lighten the place up and highlight the best features."
The couple had a new kitchen installed with a sliding window above the kitchen sink to let in more light while also allowing a better view of the entrance and driveway. Penman based the kitchen design on the original 1950s open-plan kitchen, but with a more contemporary feel, adding a black granite-topped island and extra cupboard space.
"Having a house like this feels like a responsibility, as it is part of our architectural history," she says.
"We've been careful to keep the layout in its original form and have worked within our budget to be sensitive to the house and only make additions that enhance its natural shape and function, while making it liveable for a family of our time."
Style tips
Subtle changes: "We made a feature of the room divider in the lounge and replaced it with rimu plywood," says Penman. "But opted for white walls in our bedroom and my studio. It adds light and there is still plenty of timber."
Careful contrast: Resene "Black White" has been used throughout the house. This chalky white contains a hint of grey, so it contrasts the woody tones rather than picking up the yellow as some whites do.
Leanne Moore is the editor of Your Home & Garden. For the full story on this house see the latest issue of the magazine.