Bruno Noble comes from the very best of design stock. Here, he shares a few of his favourite things.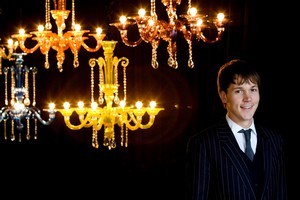 A passion for beautiful design is in the blood for Bruno Noble, who runs Auckland design store GeorgiGregg Home with his parents Georgina and Greg - an interior designer and architect. They established the store almost 10 years ago, focusing on luxurious Italian design, displayed in an opulent Parnell showroom. Noble began working in the store about five years ago, soon taking creative control while his parents continued to work in their industries. It was Noble who pushed the showroom's recent renovation, which includes a space that represents the interior of a grand house. His own aesthetic is similarly luxurious - his favourite things reflecting an appreciation for classic design.
10 FAVOURITE THINGS
1. Rolex watch
My Rolex Explorer was a 21st birthday present from my parents, and I intend on keeping it for the rest of my days. Aside from the obvious sentimental value, my watch is everything a perfectly designed object should be.
It is beautiful, functional, simple, timeless, indestructible, and suitable for every occasion. It never leaves my wrist.
2. Beryl
Beryl is my family's Mercedes-Benz G-Wagon. She has been with us for more than 15 years, following us from Britain, through Great Barrier Island, to Auckland in that time. The G-Wagon was originally designed as an army utility vehicle, but took to the roads in 1979 and has remained in production ever since. Apart from minor evolutionary changes, the G-Wagon remains unwaveringly true not just to its original design ethic and hand-crafted construction, but its original promise: a seemingly limitless, and clearly timeless, vehicle of the world.
3. Perrier Jouet Belle Epoque bottle
A perfect example of how something as seemingly simple as a bottle can become just as important as the sweet elixir it contains. Champagne is for celebrating, and so it goes that the more important the celebration, the more expensive the bubbles. So it is very important that a reasonably pricey drop has a bottle that exudes value, which is exactly what the Belle Epoque bottle does perfectly. Adorned with anemones of gold and green it is absolutely beautiful and hence impossible to throw out once the celebrations are over.
4. Apple products
Design perfection aesthetically and functionally. Need I say more?
5. The architectural works of my dad
My dad is a creative genius. Literally. If photos of past projects alone don't convince you, then while flicking through keep in mind the following: In almost every case, these homes have come from nothing, or at most a nicely located field. Every single detail (and there are a lot of them), has been dreamed up and expressed in pencil in such infinitesimal detail that it can be realised as a fully functional, not to mention beautiful, monument to remain fully functional, not to mention beautiful, for one hundred years or more.
6. Erfud Chandelier by Barovier&Toso
Barovier&Toso are the oldest glass-making company in the world. They are based on the island of Murano in Venice, where they have been for the past 700 years. As such, every chandelier they produce oozes pedigree. As you might imagine, they have a huge range, but the Erfud is my favourite. For me it represents the perfect evolution from traditional Venetian design to contemporary lighting.
7. Neo-classical side table by Rho
"Neo-classical" describes this table perfectly. I love it because it works in any environment. It manages to add an element of modernity to a traditional interior or a traditional element to a more modern environment. I have one at home and I know it will follow me wherever I go.
8. The art works of Howard Hodgkin
I am no art connoisseur and therefore I can't tell you about the makeup of the paint, or the angle of the brushstrokes. I don't even know what most of his works mean. But I know that I love them. I love the colours, their sense of identity and I love the emotions they evoke. I don't possess one myself - yet. A man can dream.
9. New Deal armchair by Poltrona Frau
To me, as a piece of design, this armchair is perfect. Like many of the things on my list, it was designed many years ago (about a hundred), but is no less relevant today. When you sit down in one, you can't help but feel that every aspect - materials, detailing, manufacturing process - has been meticulously thought out to be the absolute best an armchair can be. It does not recline, massage you, or have speakers built in. It is simply an armchair. A perfect one.
10. Aga
An Aga oven is something you don't see much of in New Zealand, which is a big shame because actually it is an excellent climate for them. They dry the air, warm the house, press your cloths and the comfort they exude is impossible to understand until you have had one. They cook delicious grub and give your home a heart.