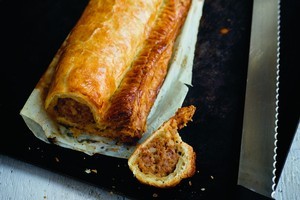 Sausage rolls are one of my guilty pleasures. What could possibly be better than light, flaky, buttery pastry filled with moist, unctuous porky goodness?
This is the recipe we make at The Modern Pantry. It has a hint of smokiness reminiscent of chorizo, another of my favourites.
Sausage rolls can be made well in advance and frozen. Bake from frozen at the same temperature, giving them an extra 5-10 minutes.
Makes 12
1 large onion, finely sliced into half moons
1 tbsp vegetable oil
300g pork belly, minced
300g pork shoulder, minced
50g pork back fat, minced
35g breadcrumbs
2 tsp salt
1/2 tsp black pepper
1 tsp sweet smoked paprika
1 tsp chopped thyme
2 sheets of puff pastry, 30cm x 15cm each
1 egg, lightly beaten
1. Cook the onion in the oil over a moderate heat until tender and caramelised. Tip into a bowl large enough to hold all the remaining ingredients and leave to cool completely.
2. Add the minced meat and back fat, plus the breadcrumbs, salt, pepper, smoked paprika and thyme, and mix thoroughly.
3. Check the mix for seasoning by frying a small piece in a pan and tasting, adding a little more salt if necessary.
4. Divide the mixture in half and shape into two 30cm logs. Place each log on a sheet of puff pastry and brush some of the beaten egg along one pastry edge.
5. Fold the pastry over and seal it as carefully as possible, pressing down firmly with the back of a fork along the flat edge.
6. Cut each log into six rolls, place on a baking sheet and brush with the remaining beaten egg.
7. Bake in an oven preheated to 200C/Gas Mark 6 for 20-25 minutes, until golden and cooked through. Serve hot or at room temperature, with tomato relish or, dare I say, tomato sauce!
* Images and recipes extracted from The Modern Pantry Cookbook by Anna Hansen (Random House, $69.99). Out now.