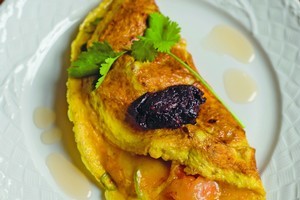 Anna Hansen says: "This is the signature dish at The Modern Pantry. To me, it has the perfect balance of flavour, texture and aroma and I think it truly reflects my approach to cooking.
"It began with me finding a packet of dried prawns in my pantry and daydreaming about all the things I could do with them. I became so enthusiastic that I decided to try making my own. As you can imagine, air-drying prawns is not that easy from an urban kitchen window and, somehow, drying them in the oven felt like cheating. I moved on to the idea of sugar-curing the prawns as you would a piece of salmon or beef fillet, but with an Asian influence. Hmmm. Not quite what I had hoped for. Finally, I tossed them into a frying pan, where they were transformed into the delicious sweet and slightly crunchy caramelised morsels that eventually became the centrepiece of the sugar-cured prawn omelette."
Serves 6
18 raw tiger prawns, peeled, cut in half lengthways and de-veined
1 lemongrass stalk, trimmed, bashed gently with a rolling pin or other suitable implement and cut into four
30g fresh ginger, sliced
3 kaffir lime leaves, shredded
1 tsp dried chilli flakes
1 tbsp soy sauce
1 tbsp fish sauce (nam pla)
100g white sugar
15g Maldon salt or other flaky sea salt
For the omelettes:
12 eggs
3 tsp smoked chilli sambal, plus extra to serve
Butter for frying
1 green chilli, sliced into super-fine rounds
Bunch of spring onions, sliced
Bunch of coriander
1 To cure the prawns, mix all the ingredients together well, then cover and leave in the fridge to marinate for 24 hours. Rinse the prawns and pat dry. Store them in an airtight container in the fridge until ready to use. They should keep for six days.
2 For each omelette, whisk two eggs together in a small bowl with half a teaspoon of the sambal. The sambal provides the seasoning, so avoid the urge to add salt.
3 Heat a knob of butter in a non-stick omelette pan over a moderate heat. When it begins to sizzle, add six prawn halves. Toss these in the pan until almost cooked, then pour in the eggs. Swirl the pan once or twice, then reduce the heat and sprinkle over some green chilli rounds and a small handful of spring onion slices.
4 When the eggs look almost cooked, use a flat, heatproof rubber spatula to fold the omelette in half. Slide on to a plate and keep somewhere warm while you make the remaining omelettes.
5 To serve, garnish with coriander leaves and a spoonful of sambal.
* Images and recipes extracted from The Modern Pantry Cookbook by Anna Hansen (Random House, $69.99). Out now.