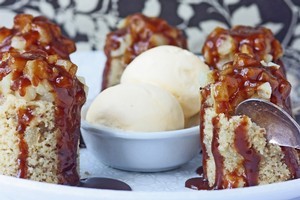 4 pears, peeled, cored and diced
100g caster sugar
100g hazelnuts, roasted, peeled and ground
100g unsalted butter
100g flour, sifted
250ml milk
2 tsp vanilla paste
2 egg whites
6 egg yolks
8 egg whites (for the meringue)
100g caster sugar
1. Brush pudding moulds with softened butter, coat with caster sugar to create a lining.
2. Preheat oven to 170C.
3. In a mixing bowl, coat pears in the sugar and saute in a frying pan until caramelised, add a little water as you go to stop pears from burning.
4. In a saucepan, heat butter, add flour and make a roux, cooking this over low heat for four minutes.
5. In another saucepan, bring milk and vanilla to the boil.
6. Beat a little of the milk at a time into the roux, cook over slow heat until it comes to the boil, stirring constantly.
7. Pour the mixture into a bowl and allow to cool.
8. Beat in first amount of egg whites, then mix in yolks one at a time, making sure each one is mixed in well.
9. In a clean mixing bowl, whisk egg whites to soft peaks, continue to whisk, sprinkling in sugar until firm and shiny.
10. Fold one third of meringue into mixture then gently fold remaining amount. Fold in hazelnuts and pear.
11. Fill each moulds three-quarters full, place into tray filled halfway with boiling water and bake for 30 minutes. Remove from the oven, allow to cool for a minute before unmoulding. Delicious served with a chocolate sauce.