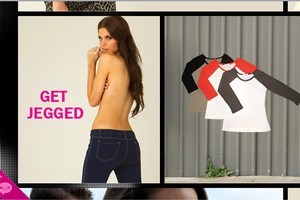 Australasian tween clothing chain Supre is under fire after running sexual advertisements featuring a young topless model.
Stores in New Zealand and Australia have pulled the campaign after complaints.
The Australian Advertising Standards Bureau said it had received many complaints about the images that appeared in print and on buses that show young topless girls in jeggings (a jeans-leggings cross) with only their hair covering their breasts, as well as the television commercial that contains "sexualised content".
Supre has 23 stores in New Zealand which all had posters featuring the topless young girls around their stores until staff were told to remove them last week.
However, yesterday the images still featured on its website. In Australia, a bus campaign was also pulled.
The Australian Advertising Standards Bureau said: "The board noted that the image is a large image on buses and is therefore able and likely to be seen by a very broad audience, including children."
AASB spokeswoman Sari Mattila told Sydney's Sunday Telegraph: "The complaints focus mainly on the sexualised content, the time slot in which the ad is shown, and also the promotion of body size."
She said the bureau was now contacting advertisers after the complaints.
The Telegraph reported that the Australian advertising board was also investigating a TV ad which features a model dancing provocatively in her bedroom.
"If the board considers that the ad breaches the code, the advertiser is asked to remove the ad," Ms Mattila said.
The AASB case report rejected claims by Supre that it had targeted the 18-35 age group.
"The board strongly disagreed and noted that the Supre brand is attractive to, and very popular with, teenage and pre-teen girls."
Online groups also blasted Supre's "highly sexualised" campaigns.
"This is a continuation of Supre's irresponsible marketing," said online group Collective Shout spokeswoman Melinda Liszewski.
"Supre is very popular with 11- to 13-year-old girls. Collective Shout supporters have been sending complaints to Supre as these are sexualised ads aimed at a young market," she said.
The company declined to comment. "We are currently still working with the AASB on this so would not be able to comment until our response is finalised," a Supre spokeswoman said.