The last of the migrations are heading out of town, so hurry to catch our feathered friends.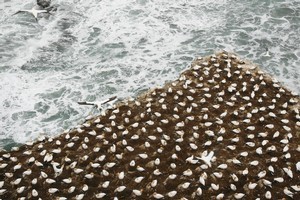 1. Muriwai Gannet Colony
Takapu Refuge. Walkway from the end of Motutara Rd.
The southern end of this windswept black sand beach, Otakamiro Pt, is the site of one of the few mainland gannet breeding colonies with up to 1200 adult gannets pairs nesting between August and March each year. You can also spot white fronted terns and blue penguins, while in spring you can sometimes glimpse fur seals on Oaia Island, 1.6km off the coast .
2. Miranda Shorebird Centre
Firth of Thames. 283 East Coast Rd, Miranda.
Listed as a wetland of international significance, the Miranda centre records more than 130 bird species. It is the best all-year site for wrybill with up to half the population wintering there, and is a key stopover site for migratory birds between their Arctic breeding grounds and the wintering sites in Australia and New Zealand.
3. Tiritiri Matangi Island
Ferries from Auckland.

An open scientific reserve, Tiritiri Matangi Island is a great example of partnership between the Department of Conservation and a dedicated group of volunteers, with a well-defined network of tracks and boardwalks and plenty of information.
4. Auckland Zoo
Motions Rd, Western Springs.
Seriously, the only chance most of us get to see a kiwi up close is the zoo's BNZ Kiwi and Tuatara House, the only public viewing nocturnal house in Auckland. Dim " moonlight" allows you to watch to watch the kiwi forage for small bugs and worms. This weekend check out progress on The Forest, one of six ecological precincts within Te Wao Nui, that come September, will be home to some of our most precious New Zealand native bird species. Zoo staff will be on hand to answer your questions.
5. Pollen Island/Motu Manawa Marine Reserve
Avondale - bordered by the Northwestern Motorway (nearest boat ramp access is at Te Atatu Boating Club, Bridge Ave).
This is a resting spot for shorebirds travelling between the Manukau and Kaipara Harbours, with dotterels, oystercatchers, spoonbills, terns and fernbirds spotted on Pollen Island and banded rail and grey warbler on Traherne Island.
* For more sites in your neighbourhood click on the link.