Whoopie pies are the latest sweet craze and these caramel-smothered banana ones are bound to make you a convert.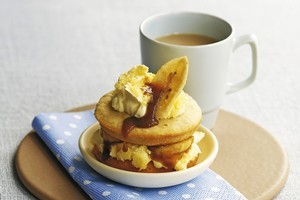 When we were children, food didn't have trends: the same favourites were produced from the same kitchen for every "ladies a plate" or shared lunch in town. But if with fancy over-use, cupcakes have worn out their welcome and macarons try your patience, it is time to find a new sweet treat. Fortunately an old Amish cake sandwich, known as a whoopie pie, is inching its way up the popularity polls.
The American states of Maine and Pennsylvania both claim it as their official state dessert with much debate and not a few hard feelings (hmm, pavlova anyone)? Now a British writer - a former MasterChef contestant, as it happens - has taken these treats which are softer than a chewie cookie and firmer than a cake or madeleine, and put her own spin on it.
Hannah Miles suggests finding shallow, curved bottom tart tins to get the perfect, smooth domed tops on the pies (or you can pipe them on to baking sheets in the same manner as macarons).
The classic whoopie pie has chocolate cake sandwiched with a fluffy marshmallow cream, but Hannah's book has red velvet, cherry and mocha-enhanced chocolate pies, old-style Victoria sponge variations and a gorgeous selection of decorated fancy pies (pumpkin pie, peanut butter and jelly, maple pecan, gingerbread...)
And, true to the trend of building great structures to terrify chefs and wow guests, Hannah has even included a whoopie croquembouche, a pyramid of suspiciously macaron-like coloured pies. Health food this is not, happy food most certainly. The crowds will be whooping.
Banoffee pies
Makes 12
These pies are a banoffee lover's delight. Make sure that you use really ripe bananas for a "true" banana flavour.
1 very ripe banana
Freshly squeezed juice of 1/2 a lemon
125g unsalted butter or vegetable shortening, softened
200g caster sugar
1 large egg
340g self-raising flour
1 tsp baking powder
1/2 tsp salt
250ml sour cream
100ml hot (not boiling) water
Caramel bananas
2 Tbs golden syrup
50g unsalted butter
2 Tbs dark soft brown sugar
2 Tbs double cream
2 ripe bananas, sliced
Banana cream
1 very ripe banana, mashed with the freshly squeezed juice of 1/2 a lemon
300g clotted cream
12 dried banana chips
Two 12-hole whoopie pie tins, greased (optional)
1. Preheat oven to 180°C. To make the pies, mash the banana with the lemon juice in a bowl using a fork.
2. Cream together the butter and caster sugar in a mixing bowl for 2-3 minutes using an electric hand-held mixer, until light and creamy.
3. Add the mashed banana and egg and mix again. Sift the flour and baking powder into the bowl and add the salt and sour cream.
4. Whisk again until everything is incorporated. Add the hot water and whisk into the mixture.
5. Put a large spoonful of mixture in each hole in the prepared tins.
6. Leave to stand for 10 minutes then bake each tin in the preheated oven for 10-12 minutes.
7. Remove the pies from the oven, let cool slightly then turn out on to a wire rack to cool completely.
To make the caramel bananas
Gently heat the golden syrup, butter and brown sugar in a saucepan until the sugar has dissolved and you have a smooth caramel sauce. Slowly pour in the double cream and stir until it is incorporated then remove from the heat and allow to cool. When cooled, remove a little sauce and reserve for decoration. Add the banana slices to the saucepan and toss gently using a spoon to ensure the banana slices are well coated.
To make the banana cream
Fold the mashed banana into the clotted cream. Spoon some on to 12 of the pie halves, reserving enough to use as a topping. Add a spoonful of caramel bananas and cover with the remaining pie halves. Put a spoonful of the banana cream on top of each pie, add a dried banana chip and a drizzle of the reserved caramel sauce.
* Whoopie Pies Fun Recipes for filled Cookie Cakes by Hannah Miles, Text © Hannah Miles 2011. Photography by Steve Painter, Ryland Peters & Small, distributed by Southern Publishers Group $29.99.
Be in to win
We have one copy of Whoopie Pies by Hannah Miles, (Ryland Peters & Small, distributed by Southern Publishers Group) worth $29.99 to give away.
Email your contact details to life@nzherald.co.nz with "Whoopie Pies" in the subject line by Thursday June 9.