Ian Hughes tells Cate Foster why he has lived in and around Newton since he was 19 and can't imagine living anywhere else.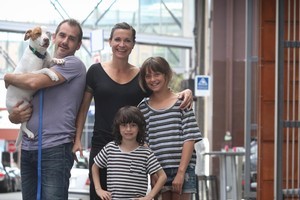 When I left home I moved into the K Rd area and have never left. The furthest I got was a warehouse down at the junction of Newton and Ponsonby Rds, but when the shell of our current place came up for sale in 1996 and my partner Cass and I were in a position to buy it, we jumped at it. At that time I was a cast member in Shortland Street so I had a regular income.
One of the main reasons we wanted to live right here was that it overlooks the old Symonds St Cemetery and to have that much greenery to look out on to in the inner city is just amazing. Our children, Frankie and Joe, have spent a lot of time out there and over the years we have watched it become a neighbourhood amenity. The other day we watched a couple of kids practising their tightrope-walking skills on a rope strung between a couple of the oak trees, and then someone else came along to practise his bagpipes.
The whole neighbourhood is like this. I've always loved it but it just keeps getting better. There's a strong community between all of us who live and work here and the crazy stuff that happens from time to time is all part of it.
Peter from Alleluya Cafe in St Kevin's Arcade is a neighbourhood angel. He hires interesting people and nurtures them. He's like the father of K Rd, as he's been in the arcade for longer than anyone.
St Kevin's Arcade is a centre of all things interesting. You get groups of art school nerd babes putting on craft or art events that defy definition. Like everyone on K Rd they're just getting on with being the people they are and doing what comes naturally. I had my 40th birthday party at Alleluya which was fun.
Almost across the road is the Ironbank building. A world-class piece of architectural design just here in our neighbourhood. It acts as a magnet for design functions such as the Urbis Design Day. But I wouldn't be without the crazy sex shops further along the road. They are part of the history of the place, too. And of course Auckland Girls Grammar is along that end, too. I find the blue tide at 3.30pm wonderfully intimidating. The toughest of the tough, moving in great packs, giggling and taking no prisoners.
There's Millers Coffee in Cross St where you can get the best coffee anywhere. Craig Miller who owns it is a real city person and a long time neighbourhood face. So is Marco who has kept the street clean for years. He must have seen some interesting things in his time and is a fixture in his own right.
Myers Park is another place where lots of activities go on. The Fringe Festival was there and it culminated in the Box Wars. The neighbourhood had spent the day there making cardboard armour and weapons and at the end it was just one big marvellous free-for-all. The compere just kept shouting, "There is only one rule, and that is there are no rules!" We went with Frankie and Joe and had lots of fun.
The children's life has always been like this, full of difference and activity, so it would never occur to them to judge or feel intimidated.
That's a good thing to grow up with.
Ian's picks
Alleluya Bar and Cafe
Shop 20, St Kevin's Arcade, ph (09) 377 8424 (and St Kevin's Arcade itself) 183 K Rd
"Both the cafe and the arcade itself are centres of K Rd life with a wonderful window at the end overlooking Myers Park and the city."
The Ironbank Building
150 K Rd
"It's great to have a piece of world-class architectural excellence right here, taking its place as though it's always been here."
The Symonds St Cemetery
"The gothic peace of the old graves right here in the middle of the city is a green anchor for all the apartments that overlook it. Most of the oaks would be more than 100 years old. There is a grave near us where Mercy Payne lies buried. A name and a life from a bygone era yet where
so much life is going on all around."
Revel Cafe
146 K Rd, ph (09) 376 6880
"It's a little sliver of a place tucked in beside Whitcoulls.
Everything is recycled and authentic with vegan food and good coffee. They always play KFM, the local radio station."
Satya South Indian Restaurant
271 K Rd, ph (09) 377 0007
"I've been going there for 11 years and the food is never less than fantastic. The service is no nonsense, verging on brusque, but that's all part of it."