Address: 549 Great North Road
Phone: (09) 376 6682
Web: mondialbar.co.nz
Cuisine: Tapas
Rating: 7/10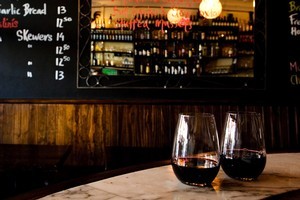 What classifies as a "local"? Is it that old adage from the TV show Cheers, a place where everyone knows your name? Does it have to be within walking distance from home to qualify? Or is it something to do with those who own or manage it, making us feel very much as though we "belong"?
Since opening, Mondial has been packed with "locals", so called because, whether they hailed from the immediate neighbourhood or travelled from afar, they were always greeted warmly by the wonderful, sexy international duo who established the place.
Warm, flirty, friendly - they really knew how to host. But they've now moved on and a new owner has taken over the mantle, so I went to find out whether I still belonged.
Mondial is a tapas bar in the Grey Lynn shops and walking in from a wintery night is like being cocooned in a warm embrace. There's a cosiness about the wood-panelled interior and soft yellow lighting that invites you in. It's dark enough that, regardless of age or beauty, everyone looks their best.
The menu is still scrawled across a giant wall blackboard and by the looks of the kitchen team nothing much has changed there either.
The barman I recognised from other Grey Lynn haunts, which gave me some comfort, but as I sat waiting for my dining pal, no-one seemed to care enough to rescue me from my lonely wait with the offer of a wine list, menu or even a glass of water.
Once my friend arrived we waited some more while staff adjusted lighting and "faffed" until one of them thought to ask us if we'd like a drink.
After that it was all on and the friendliness factor went through the roof with the new owner sitting down with us and telling us of his days living and cooking in Spain and how he was not planning on changing things too much at Mondial aside from adding his famous "bullfighters stew" to the menu. Slow-cooked oxtail spiked with lots of paprika apparently. Sounds delicious and the sort of change I'm in favour of.
Anyway, he took the hint when our food started to arrive (though I suspect he'd have joined us in eating it had we invited him!) and left us to introduce himself to another group.
A complaint I often hear of tapas-style eating is that it adds up to a princely sum on the bill but not always on the plate. Mondial is the opposite. Prices per plate are kept reasonable at an average of between $11 and $13 and portions are, in general, generous.
While the menu is hardly mind-blowing there's no pretension either and if you avoid the "fillers" (fries and calamari) you can put together a satisfactory little selection of treats. We began with cubes of juicy, seared tuna, threaded on skewers with caperberries and lemon. The caperberries added a delicious acidity to the meltingly soft tuna.
Next up were the Spanish anchovies, layered with peppers and served with wafer-thin crostini. The Spanish take their anchovies seriously and whether it's white boquerones, salted or smoked, they're a classic tapa.
At Mondial they serve the milder, less-salted variety and if you're not a fan of anchovies already, they are a good place to start as the flavour is gentle and the texture silky rather than bristly.
The warm chorizo was a letdown as it wasn't spicy enough and came served with an onion jam, that, although excellent, was so sweet it carried what little spiciness the sausage did possess clean away.
Sometimes the simplest tapas are the best and the escalivada was a case in point. This classic Catalan dish of chargrilled vegetables (escalivada means "charred" or "of the coals"), served with warm feta was marvellous - aubergine, peppers, onions and slow-roasted tomatoes. It could have done with a hint more smokiness but nonetheless it was divine.
For dessert we enjoyed an outstanding creme caramel and endured an unspectacular lemon tart, spoilt by a too tough, too thick pastry base.
On the whole, Mondial remains the same - a relaxed, bubbly and cosy neighbourhood place to meet friends for a casual winter's night drink and a few eats. If anything it's in danger of becoming too familiar and perhaps some innovation from the new owner in the menu might be just what it needs.
From the menu: Spanish anchovies $12.50, tuna & lemon skewers $14, grilled chorizo $12.50, mushrooms & bruschetta $12.50, lemon tart $11, creme caramel $11.
Drinks: Fully licensed.