Taimi Allan, actor, a mental health promoter and educator, husband Stewart, a secondary school music teacher and recording artist, and son Flynn (9) live in an architecturally designed tree house, set amid bush in Titirangi. They tell Libby Nicholson Moon why they love where they live and why it inspires them.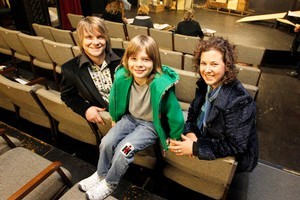 Stewart bought this piece of land two years before we got together in 1999. I'm from Adelaide in South Australia, and Stewart is from Auckland. Construction on the house began in 2006. We had a great architect, Adam Mercer, and a childhood friend of Stewart's, Dave Bamford, to help us build our 'grown-up' tree house. Stewart and Dave used to build tree huts as boys. We describe our house as a "tall narrow metal kauri". It reminds me a lot of a three-story version of the Bethells Beach surf life saving lookout.
At the end of my working day, it's an amazing feeling to return home to what I regard as our secret hideaway among the trees. Even the air smells crisper and cleaner out here.
Our son Flynn describes where we live as like "living in a dream". He loves the peace and quiet, the birdsong, and being able to have adventures in the bush. He regularly invites his neighbourhood friends over to play handball on the driveway, or just hang out upstairs in his "tree-house" bedroom. Flynn attends the Rudolph Steiner School in Titirangi, which is perfect for him, as he is an aspiring creative.
Other than our house, my favourite place is the Titirangi Theatre in the basement of Lopdell House, where I am rehearsing for the production Terra Nova. I am playing Kathleen Scott, the sculptress wife of Antarctic explorer Captain Scott. The theatre is my haven away from the pressures of everyday life. The Titirangi community is full of like-minded creative people, so we all feel incredibly inspired and enriched.
Stewart loves the tranquility and seclusion our home provides, as it's the complete antithesis of his job as a music teacher. The extremely elemental environment is his inspiration, and he can spend hours at a time in our music room downstairs playing, and composing.
Our property borders on to the Waitakare Ranges Reserve Parkland, so there are plenty of places to explore, although you have to be informed about where you are going, as we have been lost in the bush at least once. Stewart and Flynn often walk the Clarks Bush track, and I love whistling across the valley to them, or trying to spot them from our upstairs bedroom window with the binoculars. There are plenty of hidden beaches and treks off the beaten track if you know where to look. Huia and Cornwallis are just up the road, and we often go on picnics to these spots in summer. Stewart loves to exercise, so often goes for a run, or out to Piha for surf.
We usually shop at Pak'nSave, various delicatessens on the way home from work or, if we are stretched for time, we shop online. We grow veges, and I bake bread. Recently we built an adobe wood-fired pizza oven, which is proving fantastic. We love inviting friends around for long leisurely evenings of wine and pizza.
If we decide to go out for a morning coffee, it's usually the Hardware Cafe in Titirangi for a caffeine hit from Thomas the barista. Our other favourites in Titirangi are Siren Cafe, which has a great environment for business meetings; Toby's Restaurant for an after-work drink; an entree of the addictive tempura jalapenos at Takahe Restaurant & Bar; and then Marsala Indian Restaurant for their delicious, well-priced curries. La Vinci Cafe is awesome for "to die for" sweets!
However, our all-time favourite place to eat in Titirangi is Village Kebabs. This is where you will find the Allan family at least twice a week, feasting on the famous 'Iskander". The spicy, tomato, sumac-infused deliciousness of this dish is better than anything I have eaten on any of my trips to The Middle East.
Taimi and Stewart's picks
Takahe Restaurant, 421 Titirangi Rd, ph 817 5057, winter hours, Tues-Fri 11am until late; Sat 8.30 am-late; Sun 8.30am- 4pm; info@takaherestaurant.co.nz
Siren Cafe, 521 South Titirangi Rd, ph 817 9790, open daily 7am-10pm
Marsala Restaurant, 400 Titirangi Rd, ph 817 5252, open daily for lunch 11.30am-2.30 pm; dinner 5 pm-late
Hardware Cafe, 404 Titirangi Rd, ph 817 5059, Mon-Tue 7am-3pm, Wed-Sun 7am-10pm
Toby's Restaurant, 120 Park Rd, ph 817 2022, Mon-Thurs 4pm until late, Fri-Sat 3 pm-late, Sun 10am-late
Village Kebabs, 423 Titirangi Rd, ph 817 1275, open daily 10am-10pm
La Vinci Cafe, 410 Titirangi Rd, ph 8178458, open daily 7.30am-5pm
* Terra Nova runs from June 7 to 19, Titirangi Theatre at Lopdell House. Bookings Titirangi Pharmacy, ph (09) 817 7658 or online (service fees apply)