What's the story behind that hand-knit you're wearing?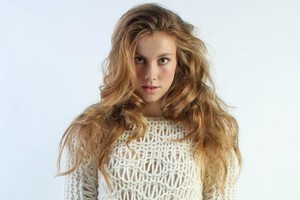 Baby it's cold outside, and that means knitwear in the fashion pages. While fine merino cardigans and angora polo neck sweaters have proven popular with some, this winter designers have been embracing knitwear that has been lovingly created by hand ... with a bit of outside help. These are cosy knits created by expert knitters in low quantities, sometimes even as one-offs - each piece with a story and talented face behind it. So who created that sweater hanging in store?
Juliette Hogan's long and short sleeved sweaters were all hand-knitted in Auckland by a woman she discovered through a knitting store. Once Hogan had decided she wanted the hand-knitted sweaters as part of her collection, she phoned a local knitting shop to see if they knew anyone who could help create them and they suggested Denise, "a lovely lady" who knitted the pieces for Hogan from her living room in One Tree Hill (Hogan believes it takes her roughly a day to create one sweater). "I went and met with her, with a couple of pictures and some vintage samples of knitted tops, and we came up with an idea of how we wanted them to look. She then knitted up a couple of samples for me; we tweaked them a little bit and then they were ready for the collection."
Hand-knits appear at Hailwood too, in the form of a thick cable knit woollen jumper and lovely oversized cardigan. Designer Adrian Hailwood explains they are made from spun brushed merino from Hawera, and hand-knitted by seamstress Elizabeth Ramos Ghirelli.
Originally from Santiago and now based in Tauranga, she was also the maker of that famous turquoise blue crochet Hailwood dress that Nicky Watson wore at New Zealand Fashion Week in 2007 (originally part of Hailwood's winter 2006 collection). Hailwood says Ramos Ghirelli, "knows how to hand-craft leather and many other materials that would seem impossible in today's mass market. The grey cropped hand-knit sweater is an intricate design of knots and clever cabling and takes a good three days of solid knitting to complete".
Twenty-seven Names have included hand-knitted pieces in their most recent three collections, from sweaters to bodysuits to cardigans. The pieces are knitted by co-designer Rachel Easting's mum Susan Kell and her partner Robin Fleming, made from 100 per cent wool, although often aren't produced for sale as they are too expensive for stores to purchase (case in point: the white "Zoe" cardigan pictured, which was made only as a sample).
They had a very specific look in mind for these pieces though, explains Easting. "We wanted the sampling to be really big and chunky, so they were knitted with huge size 10-15 needles - on a couple of them they used double wool, so there was a lot of wool in them."
Sera Lilly's knits have also been created by a mum: her mother, Cheryl, who has knitted chunky, oversized scarves, perfect for rugging up against winter chills.
At interiors webstore Everyday Needs, specially created pieces have been hand-knitted in Auckland by Sue Ward, using organic merino yarn - including snuggly socks and a hot water bottle cover. Meanwhile cable knit scarves and beanies at Karen Walker are also made in Auckland, by a retiree called Nada and a knitting group of about five friends. "They work to our deadlines and are very speedy and have the most amazing quality. A real treasure," Walker says. Indeed, these hand-crafted pieces are the type of things that will stick around in your wardrobe for years, eventually handed on to someone else.
Areez Katki's beautiful pieces challenge traditional notions of knitwear, with unexpected bold colour and shapes. The exceptionally talented Auckland-based designer creates knitwear that feels like true pieces of craft, with only one of each design created (they are available through Children of Vision and Miss Crabb in Auckland). Taught to knit by his grandmother and mother at age 10, "as a project, a way of keeping [my] hands occupied", Katki started to really concentrate on creating pieces as part of experiments, projects and shoots around his last year of high school in 2007. Now in his final year of a Bachelor of Arts majoring in art history and English, he continues to create garments that appeal to those who appreciate something truly unique, preferring to work with natural fibres like raw and naturally treated silks, felted wool, lambswool and cashmere. Most of these fibres are naturally dyed in small batches before being shaped into a garment, "all based on the trial and error of drapery" - for his recent winter collection, Handmade V, Katki worked with tea, berries, turmeric, charcoal and more. He often knits at home in Howick, but you may find him knitting at your local cafe or under a tree in a park - as Katki explains, there's knitting to be done anywhere. A piece can take him from three hours to two months to finish, depending on what it is - "A jumper can take anywhere between 15 and 35 hours to finish, not including the dye treatment that each yarn goes through before," Katki explains. "It's simply a matter of how happy or discontent I am with a result that usually determines how long it takes."
It's that love, care and attention to detail that goes into every single product that reflects the beauty of hand-knits. It's something Katki loves most about working with knitwear. "I love seeing knitwear as a surface of fibre that has been consciously and purposefully intertwined - standing as a metaphor for several things."
But perhaps you want to put your own story into your wardrobe for winter. If you want to embrace the slower approach to fashion that hand-knits represent, do it in your own time, with patterns. Hawke's Bay-based knitwear designer Nikki Gabriel creates beautifully bold knit pieces, either by hand or with the help of a knitting machine - but encourages the do-it-yourself beauty of knitwear by offering bespoke, customised yarn and knitting patterns. Or go really retro, with patterns bought from your local fabric shop or found in an opshop.
Stockists: Children of Vision (09) 379 8930, Foxes, Hailwood (09) 360 9931, Juliette Hogan (09) 360 9347, Karen Walker (09) 522 4286, Miss Crabb (09) 361 3322.