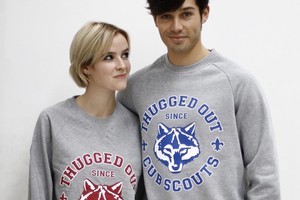 Fashion blogger Isaac Hindin Miller has become somewhat of a brand himself, and his latest venture is into the world of design, with newly released sweaters and tees branded with the phrase "Thugged Out Since Cub Scouts". The grey marl sweaters are $125 each, and available from Area 51 stores or online .
She's a winner
Viva says congratulations to producer Tara Riddell, who featured in our 10 Favourite Things column last week. Blue, a short film she produced, won the 50th Semaine De La Critique Grand Prix Canal + Du Meilleur Court Metrage Best Short Film at the Cannes Film Festival in France. The short was directed by Stephen Kang.
Spreading the smell
High-profile candlemaker Ecoya has extended its range of gift items, with the launch of four new Ecoya Bodycare products, including glass jars of body butters and exfoliators ($49.95) and tubes of hand cream ($29.95) in a choice of six fragrances.
There's also a lip balm, which like the other products uses plenty of plant oils for moisturising effect. (From leading department and gift stores or online.)
White out
Here is some news for online shoppers out there: the team behind Auckland store Black Box Boutique has launched an online store, called White Box Boutique. Brands that are available to buy include Insight, One Teaspoon, Dr. Denim, Something Else and more.
Next top male model
Frank Casey Formal Suit Hire is launching a new line called Franky by Frank Casey, and running a model search to celebrate - just in time for ball season. The suit hire experts are searching for 16-20-year-old men to become the face of the new brand, which founder and director Frank Casey says aims to bring back the fun of dressing up in classic style for young people. Those who book their school ball suit from a Frank Casey store can enter the competition, with photos uploaded to the Facebook page where the public can vote each week for their favourite - with Casey choosing the overall winner and "face".
Rodd & Gunn has also launched a nationwide model search, for their R&G brand - which recently opened a second concept store on Auckland's High St. They are hoping to discover a new man and woman to be the "faces" of the brand, travelling to Turkey to be photographed for the next campaign by fashion photographer Derek Henderson. If you're over 18, you can enter by submitting a photo on the R&G Facebook page. Entries close June 10, with the 20 finalists to be announced on June 17. The two winners will be announced at the High St launch party on June 23.
Liz and the singer
Designer Liz Mitchell is set to dress singer Kirsten Morrell, formerly of Goldenhorse, when she takes to the stage as a guest soprano with the NZ Symphony Orchestra this Saturday. Morrell, who is also involved in the campaign to make Auckland a fair trade city, will be outfitted in a corseted piece of clothing, reflective of the Shakespearean sonnets she will be singing at the Enchanted Islands concert at Auckland Town Hall.
A fast goodbye
An Auckland fashion institution is closing. K Rd vintage boutique Fast and Loose will close its doors at the end of May, as owner and buyer Charlotte Rust moves into styling and wardrobe. But all isn't lost for fans of Rust's distinct vintage style: the smaller Search and Destroy store next door will stay open, she will open Fast and Loose pop-up stores and will sell some pieces online. There will also be a Fast and Loose stall at the Vintage Textile Fair at Alexandra Park Raceway in August.
Cheap trick
Flat boots are always a good purchase. These flat ankle boots with a buckle would work well for winter - and be easy on your wallet. "Ricci" boot, $49.99, from Number One Shoes.
Get crafty
The North Shore Community Craft Market & Bazaar is being held this Saturday, at the Milford School Hall, with stalls offering high quality craft goods, fresh produce and plants, plus performances from local schools. Visit the market this weekend at Milford School, 34 Shakespeare Rd, Milford, 10am-2pm.
Manly news
The new Topman Limited range has arrived at The Department Store, with pieces inspired by drifters who built America's railroads - think rugged and vintage-inspired, with lots of denim, heavy washed jersey and references to Navajo and Native American styling.
Tamsin's first store
Dunedin local Tamsin Cooper has opened her first store in the city, in the Moray Chambers on Moray Place. The space will also work as her workroom, housing Cooper's accessory and coat collections, underneath vintage chandeliers and antique shop fittings. The store will open on Fridays, 10am-5.30pm.
Shop it
Trelise Cooper is having her famous warehouse sale at 8 Lyon Place, Newmarket, starting on Friday through until Tuesday. Stock will be replenished each day, with a $50 rack, lots of winter coats and jackets, samples, prototypes and overseas media pieces. Friday 9am-7pm, Saturday to Tuesday 9am-5pm.
Little luxury
Lanvin is launching a line of childrenswear, to be shown in June. According to Women's Wear Daily, the first collection will feature 25 pieces for girls aged from 4-10. Expect prices to be high - Lanvin's executive Thierry Andretta told the magazine that prices would be about 10 times more than usually charged for childrenswear.
VIP Viva
All-natural New Zealand youth skin care brand Scarlett & Greene has teamed up with Ruby to design three gorgeous dresses for three readers to win.
The dresses, created by Ruby head designer Deanna Didovich, are inspired by the label's most popular silhouettes and have been made in Scarlett & Greene's striking colours: cyan, magenta and citrus green.
Scarlett & Greene's signature products, Bare All (blemish/acne control), Come Clean (cleanser and makeup remover) and Under Cover (natural moisturiser with SPF 15) have become staples for young, fashionable girls wanting easy-to-use and modern products in their daily lives.
Each winner will receive one of the three beautiful Ruby for Scarlett & Greene dresses plus a gift pack from Scarlett & Greene containing all three signature products. Viva also has five other Scarlett & Greene gift packs to give away.
To go in the draw to win, simply email your name, address and contact phone number, along with your choice of dress colour and your dress size, to vipviva@nzherald.co.nz with "Scarlett & Greene" in the subject line. Entries close May 30. Winners notified June 1.