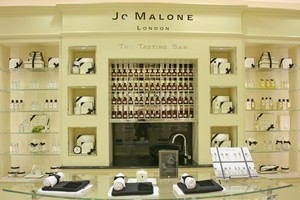 The official opening last week of Jo Malone's new Auckland store gives another reason to visit the fast-developing Britomart area. It's already on the map for wining and dining, but over the next few months more retail will be added to the mix. There's already a Les Mills gym nearby and food outlets catering to the relocated corporate crowd, but expect other destination retailers to join Jo Malone in the Atrium on Tukutai, where Westpac is headquartered, with Ernst & Young next door.
Over the next few months L'Occitane plans to open a store, along with M.A.C, which like Jo Malone, is moving on from The Chancery. Other retailers on the way include Nike, Ted Baker and LuluLemon Athletica. Already open is modern French cafe L'Assiette which faces on to Britomart Place. Sadly, rumours doing the rounds that Chanel is about to set up shop in Auckland are just that, the French house's Sydney office has confirmed to Viva.
The Jo Malone store features a Tasting Bar, allowing customers to gain a greater understanding of the composition of scent in a fun way.
Top, heart and base notes of fragrances can be experienced, allowing a favourite to be more fully appreciated or a new perfume explored. The store also offers complimentary hand and arm massage and fragrance combining, and bridal consultations. As the only Jo Malone outlet in New Zealand it also acts as dispatch centre for phone orders, sending out those coveted cream boxes trimmed with black bows. We predict many spoiled corporate wives and secretaries.
Purr-fect timing
The fragrance launch of Purr by Katy Perry is the biggest in this country in years. Farmers, the exclusive stockist for three months, says its initial sales have been double any other perfume launch, celebrity or otherwise - including those timed to catch the heavily promoted Christmas and Valentine's Day sales periods.
Perry's perfume outrated all of 2010's biggest celebrity launches combined, of scents by Britney Spears, Beyonce and Kim Kardashian. The national department store chain's fragrance buyer, Jo Spencer, said customers were a mixture of teenagers and mothers purchasing for their daughters. "The fact that the star herself was touring New Zealand at the time of launch threw the spotlight on the fragrance."
In her five years at Farmers, and judging by accessible files, there had been nothing to match it. She expects sales to remain strong for many months. "When we launched Beyonce [Heat] in June of last year sales remained extremely strong for at least six months, and the fragrance is still selling well now."
Perry's scent, a fruity-floral number with peachy notes, which the singer - who owns more than 50 fragrances - helped create, comes in a cute purple kitty cat bottle that echoes her sex kitten image. It is priced from $65 to $118, pitching below prestige designer scents.
The celebrity fragrance market has grown exponentially in recent years and the Katy Perry launch just over three weeks ago puts paid to any thought the trend might be levelling off. "Our customers can't get enough of celeb scents," says Spencer.
Most celebrity fragrances come out of the same big international perfume houses as prestige perfumes, but they are often deliberately sweet offerings aimed at younger or less sophisticated noses. Purr manages to combine lolly water appeal with some depth, making it a good bet to be more than a one-tour wonder.
That potential longevity of sales is why stars are so keen to secure lucrative perfume royalties. Britney and Mariah may no longer be top of the pops but their names still sell a lot of scent.
Fancy a bite?
A top facial will leave you so relaxed you'll feel like drooling, and to make this even more likely, French salon brand Sothys has introduced a seasonal facial scented with vanilla and caramel. You'll find the tempting treatment in more than 100 salons nationwide.
Shiver me digits
A silver shatter topcoat has joined O.P.I's Shatter Black as a new crackle finish for nails. It goes with the New Brights collection of six colours including minty green, lavender and pastel pink priced at $24.90. (From department stores, Life pharmacies and selected salons).
Grey begone
L'Oreal's ammonia-free in-salon hair colour system Inoa has been joined by Inoa Supreme, a version for women with 70 per cent or more greys. In 15 colours, it offers the same gentler colouring without the strong odour and tight-feeling scalp that ammonia induces, plus added ingredients to help the condition of hair which loses elasticity with age. The company has also matched competitor Schwarzkopf in introducing an easy-to-apply mousse formula for at-home hair dye jobs. The new Sublime Mousse, $16.99, comes in 12 shades and L'Oreal colour consultant Carron Gibbons advises that if you're not sure what shade to select, for safety's sake go for the lighter option.
Wand wavers
For years straightening irons have ruled the home heat-styling market, but wands are the new wonder workers, allowing for both curl taming and curl creation. They're already a favourite in the hands of top stylists, with Cloud Nine's new black The Wand a top-end example costing $350. Remington's new purple or pink Tribal Compact Tong, at $69.95, is more of a fun tool, ideal for creating twisty ringlets (costs $99.95).
The Wand's launch comes a year after Cloud Nine brought out a styler with impressive temperature control. With a long conical ceramic barrel, it helps create the sort of retro-style curls making waves on the red carpet and the heat setting is easily adjusted, allowing for its use on fine to coarse hair. Turn it up and wind hair at the pointy end for tighter curls, or opt for a softer, cooler loop, all achieved within seconds.
"The look for Alice McCall is all about relaxed boho with a soft, polished finish, says stylist Jon Pulitano. "I used The Wand through the front to create beautiful, soft waves that were brushed out for a polished and sculptural effect."
Mobeen Bhikoo, a stylist at Stephen Marr who has been working with The Wand says he likes that "you're not restricted to the typical contrived curls that you get with traditional tongs or irons". His tips are to section hair, use a bodifying product and work from back to front. "Even women who already have curly hair will love The Wand; you can soften or strengthen natural curls."
* The Wand, which handily has a non-twist swivel cord is available from selected salons, for stockists ph 0800 25 25 30. Tribal Tongs sell from leading electrical retailers, ph 0800 736 776.
Homegrown beauty
New Zealander Ria van Dyke is the new face of Innoxa cosmetics and if you think she's pageant-pretty, that's because she's only recently handed back her crown as Miss Universe New Zealand. The Auckland university graduate and model has signed up to front for Innoxa and the image above right is one of several that will appear in store and in print.
Innoxa is a French company with a slogan of "classic simple beauty". It has updated its cosmetics range after revamping its skincare a year or two back. Van Dyke particularly rates the new Pure Silk Skin Primer ($29.95), as a lasting base for makeup. The Sun Kissed Bronzing Powder is good value at $24.95 and there's a decent selection of lipsticks for $19.95. (Innoxa, primarily a pharmacy brand, is also available in selected Farmers.)