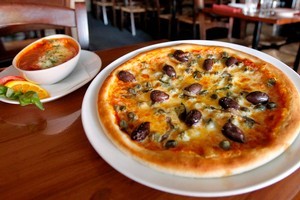 I guess it's true that often you only see what you expect to see. This goes some way towards explaining why, even though I have driven up and down Manukau Rd many times, I didn't know that Da Sette Soldi existed.
But plenty of others did. Oh yes. On a chilly Wednesday night, the place was full, with more people waiting for tables. "It's like this every night," said one.
Another reason for my ignorance was the demographic Da Sette Soldi seems to aim for. Our group of four was, on average, 30-odd years older than all the other patrons. But they were having a good, though somewhat rowdy, time, so we joined in. Our table was beside the window, which offered us a little noise shelter, and we were able to talk in only slightly raised voices.
Water was poured, wine and beer delivered, and garlic pizza bread suggested and accepted.
Then it was down to the serious business. Anita and I elected to share the Antipasti Del Re plate, John opted for seafood chowder, and Bill went for calamari fritti.
The dishes arrived in reasonable time, but then things began to go awry. The antipasto selection comprised cold cuts, chopped up artichokes and gherkins, sun-dried tomatoes and pickled onions. No bread, no olive oil, no aioli or similar dressing, and no care taken with presentation. It's a pity Bill's van does not need new tyres, as his calamari could have found a purpose. John was quite pleased with his chowder, though, but again, no bread to soak up the last drops.
My deliberately-chosen small pizza capricciosa was perfectly adequate, bearing the largest capers and olives I have ever seen, all rather clumped together on a undercooked and flabby base. Anita's ravioli stuffed with ricotta and spinach and dressed with a Napolitano sauce was seriously underseasoned.
Bill's cannelloni was nicely presented but so hot that we had finished our mains before he was able to make any inroads into his. John again got the better of us all, enjoying his unusual mix of scaloppine with avocado, mushrooms and a cream sauce. It looked better than it read, and he was well pleased.
None of us had been quite brave enough to try the fish topped with sliced bananas and almonds in a cream Frangelico sauce, but it brought to mind dessert, so, undaunted, that's where we went.
Bill and John shared a lemon cheesecake, which they judged okay but bland. The cassata Anita and I shared was reminiscent of rum and raisin icecream with a drizzle of marsala as authentication. It was fine, if you like that flavour of icecream, but was not what I call gelato.
As we wandered out into the night, John and Anita mused that their daughters would probably like Da Sette Soldi, filling up on pasta and pizza and noise at affordable prices.
We might just leave them to it.
Rating out of 10
Food: 5
Service: 7
Value: 6
Ambience: 7
Our meal: $259.30 for four starters, four mains, two desserts, one bottle of wine plus two glasses, and two beers.

Wine list: Predominantly New Zealand wines, which is odd for an Italian restaurant. The list covers the bases but is uninspired, with few unusual inclusions. Our Church Road sauvignon blanc was as good as you'd expect.

Verdict: We discovered Da Sette Soldi about 30 years late. A local restaurant guide describes the food as "the way Mamma makes it". Perhaps it's time Mamma had a new recipe book.