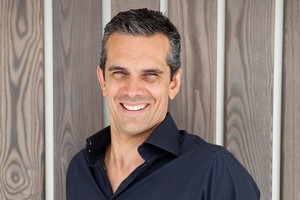 Masterchef judge Josh Emett has stepped out of the kitchen to take on his toughest challenge yet - as a dad.
Since returning to London last month, the 37-year-old Michelin starred chef has moved away from the professional kitchen to focus on his young family.
He and English wife Helen, 37, and their sons Finn, 2, and Louis, 4 months, plan to spend the next year in the city.
But relaxing into the role did not come naturally, said the hard-working chef, who was used to spending more than 80 hours a week in the kitchen.
"It's very hard for me being away from work for any time. But I'm enjoying the kids at the moment - it's the golden time," he said.
Emett left his job as chef de cuisine at Gordon Ramsay's Maze restaurant in Melbourne in February.
"The focus for me is to get out on my own and to step away from Gordon and do my own thing," he said.
After the birth of Louis in January, he and Helen decided to move to London, where her mother lives.
Emett would "love to give them [ the kids] the upbringing" he had in the Waikato, but it was too early to say where they would settle.
He plans to keep up his New Zealand ties including, he hopes, a return to MasterChef for the third series.
"I really enjoyed it. It's a great show and a great concept - it's just right."
The "uptight" judge viewers saw on the show was typical of how he was in the kitchen, but not at home, he said.
"I expect a lot from the contestants. But generally I'm pretty relaxed and nothing bothers me too much."
He plans to set up his own restaurant here or in England. It would combine his culinary influences from working in London, the US, Melbourne and New Zealand.