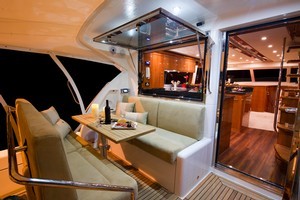 When Riviera first starting exporting their Gold Coast-built cruisers to the United States and points further east, the Australian dollar (like its New Zealand counterpart) was worth far less than it is now.
That gave the Queensland boatbuilder a real advantage: their boats didn't have to be as good or better than their American or European counterparts; they were significantly less expensive.
Those days are long gone. With the two currencies now of equal value, Riviera can compete only by offering vessels that are at least as good, if not better, than those built in Europe and the United States.
Their recently released flagship Riviera 70 was such a boat and sales to date are reflecting the build and performance quality of the 20-odd metre craft. However, as fine as the 70 is proving, it is not an easy boat for a single couple to manoeuvre alone and this obviously has its drawbacks in terms of future sales.
Riviera has therefore decided they need a sort of "mini flagship": a vessel built to the same high standards as the 70 but a little smaller and therefore more easily handled. The result is their new Riviera 61 Series II Enclosed Flybridge.
It is not the most compact of names and one cannot help wonder why their undeniably clever marketing department hasn't come up with something more punchy and memorable. Be that as it may, the inclusion of the phrase "Series II" does rather imply (as my colleague Barry Tyler of Pacific Motoryacht points out), that this is a mere facelift model - the type of thing manufacturers often do when they want a new release model but haven't quite finished amortising the value from their existing moulds.
In this case, nothing could be further from the truth. With the exception of the tried and proven Frank Mulder-designed hull, the new 61 is just that: new.
According to Riviera's Stephen Milne, the company unashamedly set out to create a "pocket 70". They wanted a vessel easily able to be managed by just two people yet very heavy on what he calls the entertaining aspect of boating.
As a result, there are saloon and dining areas throughout the 19.63-metre LOA vessel. These include a purpose-designed mezzanine level at the forward edge of the cockpit, a very large formal saloon inside, another saloon up on the enclosed flybridge and private mini lounges in both the master and VIP staterooms.
Although this emphasis on entertaining has seen a goodly part of the cockpit taken over by an outdoor seating area that backs on to the galley inside, there is still enough room to cater for the more active crew members.
There is the now almost obligatory hydraulically operated large "rise and fall" swim platform extension for those getting into or out of the water. There has also been a surprisingly large area left uncluttered for fishers and divers. There is also everything needed for what we used to call "simply hanging out": a stainless steel barbecue, a fridge and icebox and a cockpit sink with hot and cold water.
Although this is clearly not a purpose-built fishing boat, there is nonetheless a wall-mounted tackle locker set into one of the bulkheads (there is also the traditional Riviera overhead rod locker just inside the saloon).
Since Riviera's designers accepted the advantages of placing their galleys well aft (instead of down under the windscreen as was once the case), they have embraced the concept with vigour. In fact, on the 61 they have taken the idea to a whole new level.
The u-shaped benches have all been topped with granite and, thanks to a large window that opens out to the cockpit, those outside can easily grab anything placed aft.
Another great feature is Riviera's handy refrigeration drawers. There are six of these: four in the galley (two fridges and two freezers) and another two fridges and an icemaker in the stairway module opposite.
Riviera traditionally offers two-, three- or four-cabin configurations and the owner of the first 61 has chosen the three-cabin version with two staterooms and a twin-single. The main stateroom is amidships, while the VIP guests get the bow; both are very spacious. The enclosed flybridge is reached through an internal but very open-style companionway beginning opposite the aft galley. The bridge is roughly divided into three areas: the helm well forward, the entertainment area in the middle and an outside area to the rear.
Features here include an electrically operated sunroof, a wall-mounted television and a granite-topped bar module complete with sink, icemaker and bottle storage.
Although the Riviera 61 is a considerably smaller vessel than her flagship sibling, she still boasts some impressive numbers. Her LOA is 19.63 metres, with an LWL of 18.6 metres and a beam of 5.4 metres.
Even more impressively, despite displacing some 30.5 tonnes, she boasts a top speed of 35 knots and can cruise comfortably at anything from 24-30 knots. Those amazing figures are due in large measure to the 61's giant powerplants: a brace of V12, 32-litre, 1572hp Caterpillar C32 ACERT diesels. These run via 2.48:1 Twin Disc gearboxes and conventional shaft drives to a pair of Veem 6-blade 36"D x 52.5"P propellers.
The Mulder 61 hull is again a seakindly one, with a fine entry quickly flattening out to provide the buoyancy required to maintain momentum and give a predictable ride in a following sea.
Riviera 61 Series II LOA: 19.63m
LWL: 18.60m
Beam: 5.40m
Draft: 1.58m
Displacement: 30,500 kg
Construction: GRP
Max speed: 35 knots
Cruise speed: 30 knots
Fuel capacity: 5700 litres
Water capacity: 1000 litres
Engines: Twin 1572hp Cat C32
Base price of boat: A$2,212,071
Price as described: A$2,759,836
Want to know more?
Check out Barry Tyler's boat review on the Riviera 61 Series II Enclosed Flybridge in the May/June issue of Pacific Powerboat magazine.