Cate Foster finds a Devonport workshop where skilled handymen pass on their skills.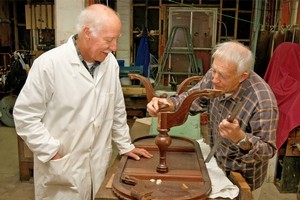 For the past 28 years one of Devonport's best gems has hidden behind the shaggy bushes and parked buses that take up part of the site of the former Auckland Gas and Brickworks. Look hard just before you get to the fire station on Lake Rd and you'll see a small sign and a gravel driveway. Turn in here and you'll find the sort of community initiative all too often only dreamed about in 21st century society.
It's called The Claystore, or more formally The Devonport Community Workshop. Here, in a listed building, a group of dedicated volunteers run a fully equipped wood and metal working workshop, with the aim of passing on their skills to the community in exchange for nothing more than a koha.
Spokesman George Crook is proud that this small charge allows them to be self supporting.
"We have to charge to cover the costs of running the building and buying consumerables, but we are glad we can keep it modest. It would defy the purpose of the exercise if it wasn't affordable to all."
It all started when the then Mayor of Devonport Jim Titchener got together a group of civic-minded citizens and some University of Auckland architecture students and rescued the building from dereliction. Locals, including the navy, donated surplus tools and workshop machinery, and a band of volunteers donated those most valuable commodities of all, time and expertise.
Philippa Bentley, a local artist who does a lot of her work on weatherboards, heard about it via friends at The Depot Artspace in Devonport. "It's an amazing facility, an absolute treasure. It has the feel of an old-world Kiwi gentleman's shed with all these absolutely lovely guys who are willing to help with anything. I have to admit I'm a bit frightened of the saws but they help me and I get through it. Because you are doing things they all used to do they are all genuinely interested in your project. I couldn't bear not having this as a community asset. We are so fortunate."
Tom Murray, 73, is typical of the seven or eight volunteers who keep the enterprise afloat today. Originally a shipwright but admitting to being "a bit handy" there isn't much he can't turn his hand to. What he has noticed over the years might not be a surprise to a public increasingly computer literate and time-poor, but it does sadden him. "So many younger people now just don't know how to do the simplest things with their hands. Here we have someone, often an ex-tradesman, around every morning who can teach anybody anything. We also have all the machinery you could need. Wood-saws, lathes both for wood and metal, a band-saw, thicknesser and an overhead planer ... other things too."
Nick Slocan, who has been an enthusiastic user for the past 10 years can't praise it enough either. "I come here regularly for some wood counselling, usually from Tom here. I hate seeing beautiful native timbers just being thrown into skips so I rescue them and bring them here and get taught how to make them into furniture. I've made all sorts of things over the years. I wouldn't be without it."
Tom enjoys his time passing on his knowledge, but acknowledges The Claystore needs a few more people like him. "What we need are more volunteers so we can open for longer hours, especially on Saturday afternoons.
"None of us are getting any younger and if we could find more volunteers we could do a lot more. They don't have to necessarily be tradesmen; just competent DIYers who like getting out in the community."
Essential info
The Claystore, 27 Lake Rd, Devonport. Open Mon-Sat 9am-12pm. Contact George Crook on (09) 445 0399, ganda@xtra.co.nz or Tom Murray on (09) 445 8786, tomandlily@vodafone.co.nz or devonportclaystore@gmail.com