Interiors stylist Leeann Yare shares the addresses of the city's hottest home stores.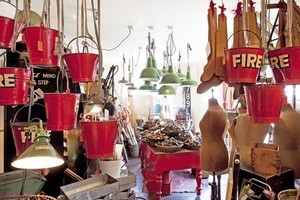 Like a backdrop in a theatre production, the gracefully ageing architecture of Surry Hills and Darlinghurst is brimming with a bohemian and trendsetting cast of people. This is certainly Sydney's creative hub, where design, fashion, music and style are as essential as breathing.
Go beyond the obvious sun, sand and surf to explore a metropolis that is home to a world-class creative community and along the way you will discover everything that defines style, including vibrant homeware and furniture stores, quirky gifts and independent fashion boutiques. With the scent of fresh coffee always in the air, go walkabout through the tree-lined streets and soak in the village atmosphere, but a word of warning - wear your most comfortable shoes and pack your credit card.
Koskela
Level 1, Imperial Slacks Building, 91 Campbell St, Surry Hills.
Anything but traditional, Koskela's showroom is situated on the first floor of an old industrial factory building.
What's not to love about steel-framed windows, battered floorboards and exposed beams? Determined to make shoppers feel comfortable, it feels more like walking into someone's home. While their signature aesthetic has a clear Scandinavian influence, lots of blond timbers and classic clean lines, Koskela stocks a wide range of home accessories such as ceramics, glassware and soft furnishings by local Australian designers and craftspeople. I couldn't help walking away with a pair of fluoro orange dotty pillowcases by Australian textiles designer and artist Rachel Castle.
Spence & Lyda
16 Foster St, Surry Hills.
A design-lover's emporium showcasing an ever-changing range of contemporary and highly decorative furniture, soft furnishings, textiles and lighting. The aesthetic is uncompromisingly high-end, yet quirky and loaded with personality. Highlights included fibreglass Eames shell chairs, and a selection of eye-catching colourful pieces from Missoni Home; I especially love the floral rugs.
Hub Furniture
66-72 Reservoir St, Surry Hills.
Needing no introduction, Hub Furniture is a slick and polished showroom with an inspiring range of furniture, accessories and lighting. It strikes the perfect balance between high-end furnishings and playful accessories, and is home to leading international brands from around the world. While it may not fit everyone's budget, the pieces are certainly aspirational.
David Met Nicole
382 Cleveland St, Surry Hills.
One of my all-time favourites this store is a stylist's heaven, and a trip to Sydney is not complete without a visit. Tiny, but absolutely crammed full of the unusual and beautiful, there is something for everyone from the vintage collected to contemporary cool, including furniture, lighting, accessories and eclectic objects. The aesthetic is unmistakably British but sourced from around the globe, this is a destination for the stylish individual looking for something a little offbeat, and not mass produced. I left with a selection of vintage printer's blocks, and a vintage "T" and "D" to adorn my son's bedroom doors.
Chee Soon & Fitzgerald
387 Crown St, Surry Hills.
With their wares often showcased in editorials in top interiors magazines, this store was a must visit. Small but amazingly well stocked, the colourful interior of this Aladdin's Cave is a feast for the eyes. Highlights included bolts of Swedish Marimekko fabric and a selection of art souvenirs from the eccentric and witty range by Third Drawer Down.
Edit
137 Albion St, Surry Hills.
Owned by a former editor of Vogue Living, Sharon Storrier Lyneham, who is well known for her creative vision, combining beauty, wit and originality. Edit's own signature style includes playful reworking of vintage objects and fabrics into contemporary homewares and furnishings. Sofas, chairs, tables, lamps and art, and a range of artfully designed in-house fabrics all have a mix of chic and whimsy.
Vampt Vintage Design
488 Elizabeth St, Surry Hills.
A collector after my own heart, Vampt is dedicated to being the home of Sydney's most substantial collection of authentic and highly collectable vintage and mid-century modern design. Sourced from Australia, Scandinavia, and other parts of Europe, these original pieces have been designed to last a lifetime. Featuring the likes of Eames, Noguchi, Arne Jacobsen, Finn Juhl, Parker and Holmegaard, this sprawling store covering two levels is certainly the largest collection of authentic mid-century design I have ever seen in one place.
I smirked to myself when I saw the asking price on a Holmegaard glass vase that I have at home (and picked up on Trade Me for under $50), but there were almost tears when I spotted a Featherston lounge chair I have coveted forever, it wasn't going to fit in my suitcase, nor on my credit card sadly.
Bird Textiles
380 Cleveland St, Surry Hills.
The brainchild of designer Rachel Bending whose focus is on pioneering sustainability in design, Bird is a range of luxury eco products for those who appreciate quality and style, and care about the planet.
Exquisitely designed fabrics are at the core of the brand. Designed in their Byron Bay hinterland studio the fabrics are all printed by hand using water-based dyes. Products such as homewares and gifts are then produced by hand, using solar power.
I was taken with the colourful bold designs, especially the series of limited edition oversized beach umbrellas and the custom-made light shades.
Also worth checking out:
Ikea
1 Oulton Ave, Homebush
For the absolute ultimate in affordable design - even the most seasoned of shoppers allow half a day.
Signature Prints
1-5 Hayes Rd, Rosebery
The home of Florence Broadhurst, a must visit for any design aficionado.
Paddington Markets
395 Oxford St, Paddington
See emerging Australian designers showcasing their wares.
Doug Up On Bourke
901 Bourke St, Waterloo
One of Sydney's stylists best-kept secrets - browse through a warehouse of industrial, commercial, and rustic antiques along with hardcore collectables.
Holy Kitsch
321 Crown St, Surry Hills
A store that's brimming with an eclectic range of Mexican wares and curios, many of which are ethically sourced and fair trade - think handmade sugar skulls, Frida Kahlo-inspired pieces, quirky paintings and much more.