Herald on Sunday rating: 3.5/5
Address: 462 New North Rd
Phone: (09) 849 4020
Website: arthuravenue.co.nz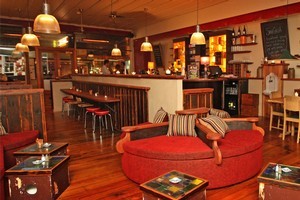 I first tasted lahmajun on the same day in 1981 that I first tasted fresh coriander. My life was never the same after that.
The little Turkish bakery in Surry Hills in Sydney was just round the corner from where I lived. Its Turkish name was supplemented by a large sign that said "Turkish pizza". But these were not pizzas. The baker knew the rest of us had never heard of lahmajun. "Pizza" conveyed the idea: bread with a topping.
And, oh, what a topping! The dough (which, baked plain, was a loaf of bread) was spread with a mixture of finely ground lamb, mint, paprika, chilli, egg - not a piece of cheese in sight. It blistered and sizzled in a fierce oven as I read old magazines and the local Turks, old men and young kids, came and went, picking up big, warm, brown-paper bags of bread for the family table.
At last, not a minute too soon, the finished product was shovelled on to the wooden counter top, sliced, sprinkled generously with coriander and wrapped (with a wedge or two of lemon chucked in) in clean, white newsprint.
It was, in short, a pizza to out-pizza any pizza.
The lahmajun at Arthur Avenue does not perfectly recall the Surry Hills variety. Its base is not the pillow-soft, slightly charred delight to which I was first introduced; thin and crispy is the style in these carb-averse days. But the scent of the spicy meat (beef in this case) instantly evoked memories of those sunburnt inner-city afternoons. As I promised one of the women at the table: it's pizza, Professor, but not as we know it.
In the space formerly occupied by Tony Adcock's Tabou, Arthur Avenue is one of two side-by-side new arrivals in the Kingsland strip (the long-serving Deve next door has also been replaced, by Page's Grill and Bar; watch this space for a review soon).
Arthur Avenue takes its name from a street in the Bronx, lined with bakeries and delis and a favourite haunt of co-owner Diana Fernandez. She and partner Kubi Hepozden (a Turk, hence the lahmajun, described on the menu as "Istanbul street pizza") announced their intentions by knocking out a wall at the back to create space for 60 and provide for a variety of seating - booths, tables, counter seats and cushioned settees - to cater for different diners' appetites.
It's a bright, homely, welcoming atmosphere and fits with the establishment's mission statement, which is "home-cooked comfort food", prepared by chef Zeki Kizilata, an alumnus of the excellent Dominion Rd Tasca.
The waitresses we encountered were perhaps more beautiful than they were competent. They were certainly not as watchful as they might have been - we kept having to pester them for water - but they were very cheerful. Once I attracted their attention, I ordered a bottle from the small but honest wine list and, while the Professor and her mate talked shop, looked through the food on offer.
That lahmajun aside, there's nothing much unfamiliar on the menu, which runs from brunch through tapas to larger courses. These last include a couple of Moroccan-inspired tagines, but no vegetarian option. (Indeed, vegetarians are poorly served: they get no pasta, one pizza and the boring end of the tapas list, although doubtless the very obliging Kubi will arrange something).
Being more in the mood for browsing than dining, I ordered up pan-fried calamari and prawns "al pil-pil" (a Basque style, with olive oil and chilli) to start. The big prawns were overcooked and dry but the squid was tender. Even the shop-talkers paused in their prattle to admire the aforementioned lahmajun before the evening's main event: the "Greek" meatballs.
They were, the waitress admitted, the same as the ones used for the Spanish albondigas elsewhere on the menu. No matter. Sitting on a rich ratatouille and topped with a generous slop of unsweetened yoghurt, this was the epitome of comfort food and we fought over every bit. Likewise the memorable cheesecake (Fernandez's own), the base of which was richly studded with pistachios.
This place will be busy when word gets round. My advice: establish a reputation as a regular, quickly, or you'll never get a table.
Ambience: Homely
Vegetarians: Remarkably few choices
Watch out for: Lahmajun
Bottom line: Comfortable
THE BILL
$143 for three
Tapas: $9.50 to $18
Pizza: $18.50 to $24
Mains: $26.50 to $29
Pasta: $22 to $24
Desserts: $6.50