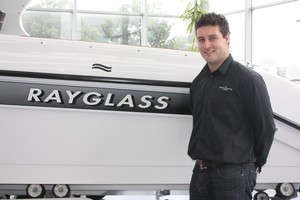 It's a good time to be a boat buyer. Especially if you are looking for something new.
Forget about that "start of summer" stuff. Mid-May, and this weekend in particular, is when new models appear in earnest.
After weeks, and sometimes months, of hard work, late nights and enormous amounts of stress, new model GRP and aluminium boats have suddenly burst forth in all their polished glory.
The catalyst at work here is the lure of potential buyers - tens of thousands of them - and the whiff of gold (in this case, the gold of an award).
Leaving the David Attenborough allusions to one side for the moment, the reason so many of our top boatbuilders choose to release their new models right now is pretty simple: it's show time. Or more precisely, boat show time.
Since Thursday the country's largest boat festival, the Hutchwilco New Zealand Boat Show, has been running at the ASB Showgrounds in Greenlane (it closes at 6pm tomorrow).
As a result, the last few weeks saw many of the country's boatbuilders burning the midnight oil to ensure their latest offerings were ready.
Hutchwilco NZ Boat Show general manager Dave Gibbs says there are nearly 30 new-release models entered into the show's fiercely contested Boat of the Show Awards (announced tonight and on display at the show tomorrow).
He also knows of several other new models, including the show's gate prize boat (a new Extreme 540 Sports Fisher) that are at the show but not entered into the awards.
It is not surprising that so many manufacturers choose to release their new models at the show. As with any consumer product, new-model releases fuel demand.
At its most base, it is a sort of "keeping up with the Joneses" thing but it is, of course, also about far more than that.
New models tend to feature the latest technology, have the latest engines, the most modern styling and the most contemporary looks.
They also tend to last longer and have better chances of resale.
Research shows that in the vast majority of new boat sales the process either starts or finishes at a boat show.
While many boats are bought on impulse, it is just as common for the process to take 18 months to two years, or even longer.
With so many manufacturers and retailers in one place, it is no surprise that so many potential new boat buyers flock to the boat show.
It is also no surprise that manufacturers have their latest offerings front and centre to try to attract them.
So what can show visitors expect to see to this year? Rather a lot.
Rayglass Boats, one of the country's most-awarded boatbuilders, has a new model at the smaller end of its range.
The Legend 2200 Hardtop is basically a more compact version of the company's popular larger models and, according to general manager Dave Larsen, it has been designed especially "for family boating, weekending, fishing and diving".
Larsen says the new model comes complete with a large brass rubbing strip so owners can safely pull up on a beach or lakeshore without worrying about damaging their boat.
Other features include plenty of stowage for overnighting and for storing the catch, a large dash to accommodate modern big-screen electronics and an attractive low-profile hardtop for protection from the weather.
Another popular Kiwi brand, Stabicraft Marine, is unveiling their new 2570 at the show.
Designed for "serious" offshore fishing it comes with a standard 360-litre fuel tank (able to be upgraded to 500 litres), a generous 200-litre fish bin (with gas strut) and a bow fishing platform.
The 7.85m 2570 Supercab also comes in three variations: the entry-level 2570 Supercab with its "sports-fisherman inspired" open cabin; the 2570 Supercab plus with a fully enclosed cabin aimed at people planning extended trips away; and the top-of-the-line 2570 Supercab MWS (Matt Watson Signature).
Other new GRP boats on show this weekend include Tristram's 581 Prima M2 and 741 Offshore; Buccaneer's 495 Classic and 635 HT; two versions of Haines Hunter's new SS 725 Sport, the Sedan and the Pursuit and the new Reflex Reef Runner.
There is a wide variety of new aluminium boats on show for the first time, too.
These include new-model Fishmasters from Image Boats, two new White Pointers, several new Extreme Boats' models and new offerings from Surtees, Everyman, Blackdog, Sea Surge and Profile.
Milton's McLay Boats, which took out last year's coveted Boat of the Show Awards overall winner category, is also back with another contender; their new 690 Hardtop.
Winners of this year's awards were not available when Weekend Marine went to press (details will be revealed tonight at a gala awards evening at Alexandra Park).
However, they will be visible at the show tomorrow.
They will be the ones with the big golden plinths proudly decorating the front of their stands.