Justin Newcombe creates some skateboard fun in his own driveway.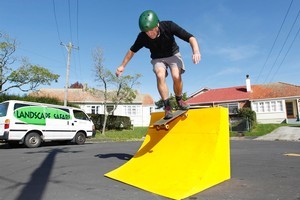 Skateboarding was invented primarily as a stop-gap for surfers when the surf was rubbish. In an island country like New Zealand this is less of an issue because if it's rubbish on the west it's decent on the east, with only a few hours' drive from one to the other. However, that does not make skateboarding redundant. In fact, skateboarding has heavily influenced the way surfers go about their business and has become a giant sport in its own right.
Many a young skateboarder has started off in the home driveway practising tricks, jumps and grabs while many patient parents have spent Saturday afternoon picking gravel out of the assorted wounds associated with skin and concrete. Once some of the basics have been successfully and painfully mastered, new horizons beckon.
While a trip to the skate park might not always be on the cards, a driveway skatepark at home is a distinct possibility. Put a ramp out on the street after school or on the weekend and it won't take long for the neighbourhood kids to turn up riding everything from a scooter to a shopping trolley.
The ramp I've built here has got a pretty decent drop on it and can take a bit of mastering (especially for an old hack like me) so you may want to build a smaller more compact model, or even more basic shapes. Skateboarding is still a huge hit with the kids, from toddlers to late teens and beyond, and nothing beats a Saturday afternoon skating up and down the driveway, showing them how it's done - or, in my case, how it's not done.
Step 1
On a sheet of 12mm ply, using a flexible piece of beading timber or plastic piping as a guide, form the curve that will make up the profile or side walls of the ramp. Allow a 200mm launch pad at the top. Be realistic, if you've got a 4-year-old they probably won't take a 1.8m drop. On the other hand, it's only a one hour job (and far easier) to cut the ramp down.
Step 2
To form the curved face of the ramp, screw and glue 75mm x 50mm braces to both side walls. Cut enough braces to have one every 200mm. My ramp is the same width as a sheet of ply which is 1200mm. I cut my braces at 1160mm wide. This allows 24mm for both profiles or side walls, and a little wriggle room to trim and sand to form a clean edge.
Step 3
Using 7mm ply, screw and glue the face of the ramp to the braces and side walls then install a second layer over the top of the first. Make sure any joins in the ply are in a different place to those in the first layer. Use heaps of glue, especially around the edges. I used Gorilla wood glue, which expands into any gaps.
Step 4
Once dry, trim and sand excess glue and protruding edges.
Step 5
Paint the ramp a bright colour.
* Thanks to my 13-year-old mate A.J. for his help and sage advice.