With this series almost over, Masterchef fans can get their foodie fix from the season's new cookbook.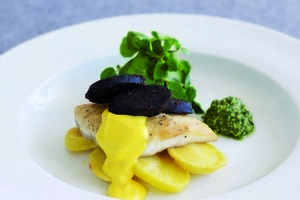 Sunday night's MasterChef final sets Jax Hamilton against Nadia Lim for the 2011 crown in the agonising showdown. As well as the car and a luxe suite of kitchen prizes, the real reward for the new MasterChef is a chance to develop her own cookbook. Last week the would-be celebrity cooks had pointers from the queen of clever cookbooks, Donna Hay, but they would have learned plenty about beautiful cookery presentation from last year's MasterChef New Zealand The Cookbook.
In a smart marketing move, Random House will have the second MasterChef The Cookbook on the shelves on Monday, ready for you to test the dishes that caused tears and elation over the past three months. The photography and styling, by some of New Zealand's leading professionals, is, as Donna says, "lickable" but it is the notes behind the dishes that really help to bring the food alive. This edition's handy addition of master class workshops rounds up some terrific techniques and tastes. There are plenty of doable flavours from judges Simon Gault, Josh Emett and Ray McVinnie, gourmet comfort food from The Langham chef, Volker Marecek, and some of the competitors' favourites, such as Fiona Read's hapuku audition dish, which was toured through Simon Gault's restaurants.
Fiona Read's Roast Hapuku & Black Pudding on Sherry Potatoes with Saffron Aioli, Nettle Pesto & Watercress Salad
Serves 2
This dish blends life in Kaikoura with my Scottish heritage and passion for sourcing top-quality local ingredients.
Saffron aioli
1 Tbsp water
Large pinch of saffron threads
2 tsp chardonnay vinegar
1 egg yolk
1 small clove garlic finely chopped
1/4 tsp sea salt
1/4 tsp caster sugar
1/2 tsp Dijon mustard
70ml extra-virgin olive oil
70ml grapeseed oil
Sherry potatoes
2-3 medium-sized Agria potatoes, peeled and sliced into 1cm-thick rounds
2 Tbsp olive oil
Pinch of sea salt
3 Tbsp dry sherry
Nettle pesto
2 cup nettle tips or leaves, thoroughly washed (1 1/2 cups spinach or 1/2 cup parsley if nettle unavailable)
1/2 cup walnut pieces - toasted
Sea salt
4 Tbsp good-quality extra-virgin olive oil
Watercress salad
tsp grated orange zest
1 tsp orange juice
1 Tbsp olive oil
Salt and caster sugar to taste
1 cup watercress leaves washed
2 fillets hapuku skinned and boned
2 Tbsp flour
1 Tbsp grapeseed oil
1 tsp butter
Sea salt
Freshly ground white pepper
4 slices of good-quality black pudding approximately 2cm in diameter
Grapeseed oil for frying
1 Preheat oven to 220°C. To make the aioli, gently heat the water, saffron and chardonnay vinegar in a saucepan for 5 minutes to infuse the saffron. Cool completely.
2 Place the egg yolk, garlic, salt, sugar, mustard and cooled saffron liquid in a food processor and process for 20 seconds. With the motor still running, slowly add the oils until completely blended and thick . Taste for seasoning.
3 Place potato rounds in a roasting tray with the olive oil and salt and toss to coat. Arrange in a single layer and drizzle with half the sherry. Cook for about 20 minutes, turn, check seasoning, then add remaining sherry. Cook until golden brown. Reduce oven temperature to 200°C.
4 To make the pesto, blanch the nettles for 90 seconds in boiling salted water. Drain and place immediately in iced water. When cool, drain, place in a tea towel and squeeze the excess liquid from the nettles. Roughly chop.
5 Process walnuts to a crumb consistency. Add the chopped nettle and process until combined. Add a little sea salt and with the motor running drizzle in the olive oil. Check seasoning and adjust if necessary.
6 For the salad, combine 1/2 teaspoon of nettle pesto with the orange zest and juice in a jar, and shake well. Add the olive oil and shake again. Add salt, sugar or orange juice to taste. Before serving, toss the watercress in the dressing.
7 Lightly coat the hapuku in flour. Heat an ovenproof frying pan over high heat and add the grapeseed oil and butter. When the butter stops foaming, add the fish and brown for approximately 2 minutes. Turn and season with salt and a little white pepper. When the other side has browned, place in the oven and roast until just cooked, around 6-7 minutes.
8 Remove from oven and rest for a few minutes.
Brown the black pudding in a frying pan over medium heat with a dash of grapeseed oil until caramelised on both sides.
9 To serve, overlap 3 potato rounds on each plate and top with a fish fillet. Drizzle aioli down one side of the fish and place 2 slices of black pudding on top. Place salad opposite the aioli. Place a spoonful of the nettle pesto alongside.
* Extracted with permission from MasterChef New Zealand The Cookbook: Volume Two, $55, Random House, 2011.
Be in to win
Weekend Life has five sets of MasterChef New Zealand The Cookbook: Volumes One and Two (value $95) to give away.
Email your contact details to life@nzherald.co.nz with "MasterChef New Zealand The Cookbook" in the subject line by Thursday May 19.