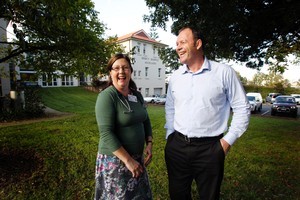 When former All Black Alan Whetton's mother was dying of cancer last year, the last place she wanted to be was in a hospice.
"My mother was in a lot of pain, and she's a fighter. And she probably saw that as a sign of weakness."
But with ovarian cancer - "a bitch of a cancer" - making life increasingly difficult at home, the family convinced Ann Whetton to move to Mercy Hospice in Ponsonby for care.
"She relented, and she wished she'd come here earlier ... The chats with the doctors and nurses, and the 24-hour care - and getting rid of that bloody pain."
The move meant it was finally "all about mum", and not the 2am phone calls, the vomiting, the "immense pain".
"We talked about things that ... you want to talk about. So it was a sad time, but a fulfilling time in some ways as well."
The first anniversary of Mrs Whetton's death will fall during the national Hospice Awareness Week, which begins on Monday.
Alan Whetton, who was a member of the 1987 Rugby World Cup-winning All Black team, is a high-profile supporter.
He first learned of Mercy Hospice's work after an old school friend was helped there, and he and wife Nicci have been involved in its charity efforts for more than 18 years.
His mother's experience has only strengthened that support.
"You find out about the disease, what they do to treat it - they go beyond. It's just peace of mind that your loved one, who's in a lot of trouble, is in the right place."
Sandy McGregor, the hospice's fundraising team leader, said part of next week was an opportunity to "break the myth around what a hospice is".
"It's a place where people can have pain relieved, and family can have some weight taken off their shoulders, so patients actually have time to live."
The hospice's family support teams and nurses make around 10,000 housecalls every year, and a 500-strong volunteer army cooks meals, delivers groceries and provides lifts to those still at home.
Patients can also come in for as little as a day to give them and their families a break from the stresses of home care.
"People just don't realise," Ms McGregor said. "They think it's a building. People come in, they spend their last few days and that's it."
Seventy per cent of Mercy Hospice's annual funding is supplied by the Auckland District Health Board, but the other 30 per cent - $2.3 million - needs to be met through charity.
"The awareness week is just one opportunity for us to shake a bucket and say, 'We're here, remember us'," Ms McGregor said.
Although the hospice was founded by the Sisters of Mercy, and has religious affiliations, she said everyone from within the district health board boundaries could access the free services.
For Alan Whetton - whose brother, former All Black captain Gary, was also in the World Cup-winning team - the work of hospices like Mercy is an anchor amidst the hype surrounding this year's tournament.
"It certainly puts it in perspective. How many times we've heard that saying, 'It's just a game'."
ON THE WEB
Hospice Awareness Week 16-22 May