Address: 232 Oriental Parade
Phone: (04) 385 8555
Website: whr.co.nz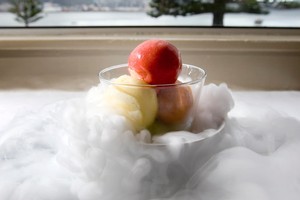 In my opinion, on a good day, little beats the view across Wellington Harbour.
Had we gone to The White House on Friday night, we could have enjoyed it in its full beauty. But by Saturday the wind had changed, the rain had arrived and the view was less than spectacular.
But at least there was still a view. Situated on the first floor of an old house in Wellington's answer to - or inspiration for - Tamaki Drive, The White House commands a decent vista.
This is a very smart restaurant, all hushed tones, linen tablecloths and gleaming silverware. My sister had requested a table by the window (more in hope than expectation of the weather) and thus we sat. Napkins were flourished, drinks were delivered promptly and menus proffered.
An amuse-bouche of snapper ceviche with cucumber jelly appeared before us and was devoured quickly, although with decreasing enthusiasm as a lack of seasoning became apparent.
Lots of things are done with a flourish at The White House. Christine's oysters, underpinned with sauce mignonette and rye bread, were served on a chin-high rack, lest she spill even a drop down her front.
It's a clever idea, and she swore she could taste Foveaux Strait in the bivalves on their bed of seaweed.
My panzanella salad, with tomatoes, capers, croutons, basil and olives, was delivered to a little stand beside our table and there tossed, with some trepidation, by our waiter, who confessed it was the first time he'd done it. The vegetables were fine, but the whole was, again, bland and difficult to accumulate on the fork.
Bill's crab ravioli was well made, the pasta tender and the crab not outdone by the pawpaw, coriander and lime salsa and a taste of coconut. But this dish too was under-seasoned.
The mains, we hoped, would have more flavour, as the condiments had been whisked away. And so it proved.
Bill had foresworn scallops as an entree in order to enjoy them as a main, and he did, although he was not overawed. Christine was though, with the cured duck breast, served on braised cabbage with a duck leg and orange kumara. My lamb rack was perfectly pink and tender, and the shoulder meat was tender. There were peas with feta, and a pea puree. It sounds like a Sunday roast sans spud, but was much better.
A palate-cleanser of mandarin jelly with citrus foam arrived, as, in time, did dessert.
Another flourish - we were getting used to this - the sorbets of kiwifruit, mango and pineapple were delivered in a covered dish. When the cover was removed, we and the sorbets were enveloped in a cloud of dry ice. Spectacular and delicious, especially the pineapple version.
Bill's apple and blackberry crumble with custard and icecream was fine. Calvados was not available, so we made do with coffee and Armagnac.
Paul Hoather has been chef and owner of The White House for 12 years or so, and he knows his clientele. They want grand displays, and he delivers. Diners also want well-flavoured food, and here, sadly, The White House falters.
Rating out of 10
Food: 7
Service: 8
Value: 8
Ambience: 8

Our meal: $395 for three entrees, three mains, two desserts, one bottle of wine plus two glasses, two beers, coffee and brandies. Wine list: An impressive choice by the glass, with many French champagnes, aromatics and standards.

Verdict: The prices put The White House in the "big occasion" range, but it's worth it.