Actress/stuntwoman Rachel King likes to mix up her style so it's both feminine and fun.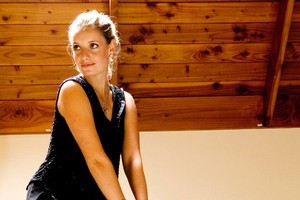 Here's a career combination you don't hear everyday: actress/stuntwoman. Rachel King is one such "slashie", and will appear in the Devonport Theatre Company's latest production, Gavin Puts Things Straight - although there won't be any stunt work involved. King plays the girlfriend of Gavin, in the play set on Auckland's North Shore, a follow-up to last year's performance of Pear Shaped.
Away from the stage, King describes her style as feminine, fun and exciting - "because of the way I am constantly mixing things up; the new and the old, the leather and the lace".
* Gavin Puts Things Straight, The PumpHouse Theatre, May 4-15, tickets $26, ph (09) 486 2386.
Who are your favourite designers?
I love Alexander McQueen's work. He had such an incredible imagination and vision for his garments and runway shows.
What was the last item of clothing you bought?
A loose-fitting black velvet T-shirt dress.
What do you want to buy next?
I am on the search for my next statement piece to wear to an awards evening.
Your favourite accessory?
A cute little lace vest and my D-luxe necklaces.
Who does the best shoes?
Gisborne shoe designers WhyWho do the best shoes! They are classic and elegant with a good range of colours and extremely comfortable to wear.
What endures throughout the seasons?
I think a beautiful scarf can spice up any outfit.
Your favourite shop?
I don't have an overall "favourite shop" but I do enjoy fashion stores that have some kind of story/theme throughout.
What's your fragrance?
Ralph Lauren's Wild.
Whose wardrobe would you most like to raid?
Sienna Miller and the Olsen twins' wardrobes. They would have something fun and beautiful to wear for every occasion.
What's the best outfit - or costume - you have ever worn?
It would have to be a 1700s ballgown costume (wig and all), for a play in 2010.
Best sartorial advice you ever had?
Never say nasty things about others.
Best sartorial advice to pass down to your child?
If I had a daughter or son it would be, always be happy and comfortable with who you are.
Most cherished item?
Would have to be my 21st family jewels with all the history and emotions behind them. Totally irreplaceable.
What is your handbag - and what's in it?
My favourite handbag is a furry kangaroo skin handbag which carries my Ralph Lauren fragrance, bobby pins, sunnies, lip balm, coral lipstick, camera, vintage purse, keys, diary, pen and quite often a script that I am working on.
Best way to recycle your old clothes?
Always cut areas to make a different shape and add lace, buttons or zips to make it different. What is your favourite decade, style-wise?
I would have to say the 1930s for its gorgeous glamour, and the 1950s for its cheeky playful feminism looks.
Leopard print, yes or no?
I think there is a time and a place for leopard print, so ... yes.
Your favourite stylish place?
I love the funky Matakana movie theatre, and The Poverty Bay Club in Gisborne, with its laid-back atmosphere and yummy menu.