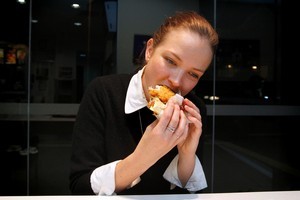 It is low in carbohydrates due to a lack of bread, and while the Double Down might trigger the taste buds, it can in no way be described as "healthy".
The Herald was given a taste test of KFC's "bunless burger", which is being released in New Zealand today.
Two fried chicken breasts, two slices of bacon, two slices of cheese and a creamy sauce.
Gift-wrapped in its red fast-food box, the Double Down glistened with a thin coat of oil that sat on top of the upper slab of chicken.
It was crispy, salty and unbelievably eatable, leaving you wanting more. The sandwich was held together well by the cheese and sauce.
The "burger" has been the subject of numerous media stories focusing on its fat-laden content. In terms of nutrition it compares with other chain burgers, such as the Big Mac.
Butmore than 2500 Kiwis joined the Facebook petition to bring the ultimate meatwich to New Zealand, and it is now on sale for five weeks, at a cost of $7.90.
ARTERY CLOGGERS
Double Down Sandwich: 604 calories, 34.4g fat, 1380mg sodium
McDonald's Big Mac: 26g fat, 1080mg sodium
McDonald's The Boss: 44.4g fat, 1120mg sodium
Burger King Double Whopper: 54g fat, 1088mg sodium
Burger King Hawaiian BK Chicken: 48g fat, 1805mg sodium