Herald on Sunday rating: 4/5
Address: 12 Swanson St
Phone: (09) 337 0506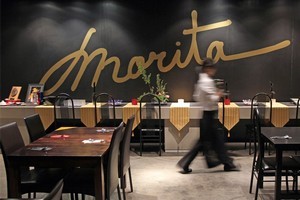 As an indigent university student, I would occasionally treat myself to dinner at the dirt-cheap Kam Sang in the then borderline-squalid part of Queen St opposite the Town Hall. But the Tai Tung in snazzy Swanson St was of a different order altogether.
Lured there one night by better-heeled law students, I broke into a cold sweat at the sight of the menu: the combination fried rice was, if I remember rightly, 40c instead of the 25c I was accustomed to.
Morita is dearer than both the Kam Sang and the Tai Tung - to tell the truth, it's pretty pricey, but you get what you pay for.
And it's the kind of place that in New York or London would get a buzz around it so loud you couldn't get a table for weeks. Is Swanson St up for becoming a gastronomic hot spot?
The eatery is named for its founder, Masaru Morita, who was head chef at the late and lamented Ariake in Lower Albert St, Auckland's benchmark Japanese restaurant for around 30 years.
At his eponymous establishment, he parlays his training in the techniques of classical French cuisine into a restaurant serving "French Japanese" food. It is not a combination I've struck before, although a quick Google tells me it is far from unknown.
The site on the corner of Mills Lane has been home to other Japanese places, most recently Toki, which was a creditable sushi, dumpling and donburi joint. But its out-of-the-way position and a claustrophobic underground design meant it struggled to work.
Morita defiantly preserves the gloomy fitout. Indeed, they have largely blacked out the windows and the murk is virtually Stygian in a room whose black walls seem to suck the light out of the very air.
There are homely touches though, including a display of Morita-san's trophies - he was the ice-sculpture king of Sapporo in 2002 - and the loo doors are dressed up so wittily (you have to see them) that you can almost forgive that Hallensteins shirt.
The dinner menu is degustation-only (things move more downmarket, though only very slightly, at lunchtime) and the options are for an $80, $100 or $150 set menu - although you need to give them 24 hours notice if you want the expensive deal.
We were offered a compromise - the $80 and a $120 option which included elements of the $150 one, notably a slice of richly marbled wagyu beef and half a crayfish (the cheapskates settle for Californian lobster).
For some reason, they gave the Professor the de luxe treatment and I was forced to slum it - perhaps they can tell a PhD from a BA even in the gloom - but she was kind enough to share hers or at least had the grace not to object when I pulled rank and commandeered it.
I lost count of the number of courses ferried out by our waitress or by a pair of earnest sous-chefs, but there were some sensations among them: sushi was given a French twist with thin-sliced duck on fine, white mash; alongside, for symmetry, a roll of foie gras was perched on sticky rice. A Bluff oyster in ponzu vinegar was paired with another, flash-fried in balsamic, and slightly shrivelled so the taste was dense and nutty.
The sashimi included mullet and piper - with stronger, bolder flavours than normal - and a riff on a fish stew, a workingman's dish, was a sublimely delicate miniature assemblage of kingfish, mussel and a soft slab of daikon radish in a mild and fragrant broth.
That wagyu, served with a subtle mustard dressing and fresh green peppercorns, came with thin-sliced potato and a poached egg - the best steak, egg and chips I've ever had - and I had to resort to mild violence to keep the mostly vegetarian Professor off my half of it. But she was well-served with a tiny serving of slow-cooked beef cheek accompanied by tempura broccoli.
And the divine sushi selection was yet to come. As a chef would explain, you don't sample fine Japanese food on top of rice dishes.
I was slightly less impressed by the dessert platter - an unremarkable mouthful-size apple pie and some fresh fruit - but this is a genuinely interesting take on Japanese food and a destination to rival Cocoro in Ponsonby. Book soon.
Ambience: Murky
Vegetarians: Should avoid
Watch out for: Dressed-up loo doors
Bottom line: Much better than it looks
THE BILL
$247 for two
Degustations (2): $200
Sake: $21
Water: $26