Herald Rating: 4/5
Address: 98 Hinemoa St, Birkenhead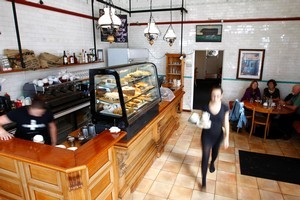 We came here because we wanted to go somewhere we knew would not fail us in our quest for a good meal.
Parking was right outside on the street.
We walked in and immediately thought the cafe was as tidy as ever and we liked the large photos of harbour scenes on the walls.
The most unusual thing on the menu was not an issue. All items on the all-day breakfast and the all-day lunch menus were fairly standard.
We ordered salmon and potato cakes with poached eggs, spinach and hollandaise sauce ($19) and baked eggs, spinach and tomato on Turkish bread ($12) with a side of bacon ($4). Both dishes were delicious and just the right size.
The service was friendly and efficient.
The coffee was Millers brand and very good.
If you come here the seating choices are either in the front, historic butcher shop section, outside on the street front, in the dining room or out the back in the courtyard. All are good options.
Overall we thought Ravenhill was reliably efficient and with good quality food.