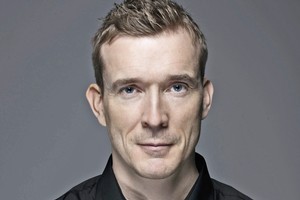 David Mitchell is a UK author whose most recent novel is The Thousand Autumns of Jacob de Zoet. He will be appearing at the Auckland Writers & Readers Festival.
The book I love most is ... To choose only one feels like an act of betrayal to all the others. If forced at gunpoint, I'd go for a big, fat volume of Anton Chekhov's stories which includes his novella, The Duel. But I can already hear Joseph Conrad, Leo Tolstoy, Giuseppe di Lampedusa, George Eliot, Sylvia Townsend Warner and John Cheever on the sidelines booing and calling out, "Right, yeah, thanks a bunch, pal - and after everything we've done for you."
The book I'm reading right now is ... The Way We Live Now, by Anthony Trollope. I always thought he was a starchy Victorian, but this is brilliant - it's about an almighty financial crash, the reasons behind it and the lives it wrecked. You can either laugh or cry at the novel's contemporary relevance. The villains are human and the heroes are flawed, like the rest of us. Also on the go are Michel Faber's short stories, Sam Selvon's The Lonely Londoners and Icelander Halldor Laxness' Independent People.
The book I'd like to read next is ... My guilt-pile is 20 books high, but as I plan to visit Iceland later this year I'd like to read some Norse sagas. Battles, land-grabs, abductions, witchcraft, whale hunts, icebergs, incest ... never a dull moment in the 10th-century North Atlantic.
The book that changed me is ... I don't think I have been changed by a book, to be honest, not in a Damascene conversion sort of way. Don't you think change is more a matter of increments, day-by-day, encounter by encounter? Only by looking back 15 years at the younger stranger you used to be does the accumulated change become visible, but the majority of that change is down to life-lessons, not book-reading. Oh dear, that all sounds a bit self-help-y, doesn't it? Okay, both Primo Levi's The Drowned and the Saved and Jean-Dominique Bauby's The Diving Bell and the Butterfly reminded me that my so-called problems are really tiny dents in an otherwise lucky life, and that I really should stop whinging.
My favourite bookstore is ... John Sandoe's Bookshop in Chelsea, London. And Three Lives Bookstore in New York. And my local, Kerr's Bookshop in Clonakilty, West Cork.
The book I wish I'd never read is ... If a book is so manky a dog that you're going to regret reading it, you've only got yourself to blame if you do. I'm 42, I read maybe 25 books a year, with luck I'll live another 40 years, which adds up to only 1000 books. I probably own more than a thousand unread books now. If, after 50 pages, a book isn't doing anything for me, it's time to say goodbye.
* The Auckland Writers & Readers Festival runs from May 11-15.