Address: 138 Hinemoa St, Birkenhead
Ph: (09) 418 0138
Open: weekends 8am-4pm, weekdays 7am-3pm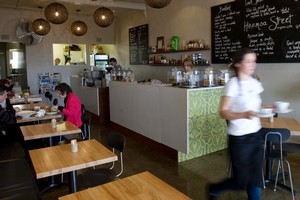 It's a hard task finding a good coffee north of the bridge, but a select few cafes do offer top-notch brews, and the Hinemoa Street Organic Cafe is one of them.
With a trolley out the front selling organic produce at the weekends, and an array of well-crafted meals, outstanding service and a nice environment, it was down to the coffee. I thought the first one I had was just good, but I've been told I can be a bit fussy in my search for excellent coffee, so I asked for a second brew to see if something good could be great.
The second coffee, a flat white, was as I would like, not too frothy and a good temperature. This freed me to evaluate its other characteristics. It was filled with peanutty notes, hints of spice and a pleasant, soft, citrus-lime mouth feel. The espresso was very similar with a medium acidity, bold earthy notes and again a pleasant citrus-lime across the palate.
Hinemoa Street Organic Cafe proved to be a well-rounded coffee experience, helped of course by good food, atmosphere and service.
* Hans Pronk is a top Auckland barista who owns ME Coffee Boutique in Albert St and roasting company Merito Espresso.