Brimming from the excitement of the royal nuptials, a story about a self-exiled princess proves timely for writer Monica Ali.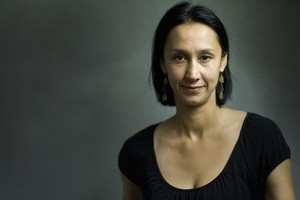 Ever since the local Bangladeshi community objected to how they were depicted in her 2003 début novel Brick Lane, Monica Ali has been no stranger to controversy. But nothing could have prepared the 43-year-old for the storm that has erupted over her latest novel. Untold Story centres around a fictional Diana-esque princess whose attempts to lead an anonymous existence in a nondescript midwestern American town after faking her own death are threatened by a chance encounter with a paparazzi from her past.
"I work with the door closed and just follow my instincts," she says. "I write about what I find profoundly interesting, not just on a surface but a fundamental level as well. I do what I want to do and then of course you have to accept that people are not always going to understand what you're writing about, which is fine. We've got a free press in this country, as you do in New Zealand."
Although the first draft was completed last July, the London-based author has been accused of cashing in on the fervour that has surrounded Prince William and Kate Middleton's nuptials since their engagement was announced late last year.
"I saw the news at the same time as everyone else and I initially thought that it might look like insensitive timing," she admits. "There have been a lot of other non-fiction books crop up about William and Kate and my immediate reaction was maybe we'd get lost in all of that. As it turns out, it's been a stroke of luck. The response to the book has been phenomenal all around the world. I've been a bit overwhelmed."
From Stephen Frears' film The Queen to Alan Bennett's novella The Uncommon Reader, Queen Elizabeth and members of her distinguished family have been the focus of numerous fictional accounts.
"My feeling is that any subject can be a subject for fiction, including the modern royals," says Ali. "There's been a huge amount of stuff written about Diana that has been negative, including a lot of non-fiction that claims to be the truth. My novel takes Diana as an inspiration and starting point and I wouldn't pretend otherwise. My fictional princess is a sympathetic portrait but there are large and small differences between her and Diana."
Although Diana has never been far from the spotlight in the 14 years since her death, Ali cites the moment when William put his mother's engagement ring upon Kate's finger as the pivotal turning point. "When I was writing the book, Diana had been off the front pages for a long time," she says. "But that brought her back, front and centre, into people's lives and imaginations."
According to Ali, Diana's critics would prefer her memory to fade into obscurity. "She was a decisive figure when she was alive and after her death as well," she says. "There were people in the Establishment who thought that she would be the downfall of the institution of monarchy, bringing it to its knees and scandalising it. I read a piece in a Sunday paper the other day about how manipulative she was. The more I read about her while researching the book, the more I respected and liked her. She operated under enormous difficulties and pressures. She was supposed to be a lamb to the slaughter. She was 19 when she got married, a virgin with very low self-esteem from an unstable family background. She was supposed to just go quietly but she didn't."
Growing up in the northeast Lancashire town of Bolton, Ali has fond memories of the young Diana Spencer's wedding to Prince Charles in 1981. "We had the biggest telly, so all our neighbours piled around to our place," she recalls with a laugh.
While many small girls dream of being swept off their feet by their very own Prince Charming, Ali turns the traditional story on its head. "Fairy tales have been with us for centuries, not only because of the sweetness in them, but also the darkness," she says. "They play off our fears of family strife, wicked stepmothers and strange men. Some of those fears like poverty, cold and hunger are no longer snapping at our heels as they have throughout history so you need to update the old fairy tales to take in the fears and neuroses of modern life.
"We've seen the dark and dirty side of fame and fortune. On one level, you can go along with the fairytale ideal of marrying into riches but we've seen through celebrity culture that it comes with an enormous price and pressure. The modern fairy tale of an unhappy princess turning into a Cinderella who finds a more meaningful aspect of life is a recognition of that."
Ali believes that valuable lessons can be learnt from Diana's unfortunate experience. "Times were different when she got married," she says. "Kate has been criticised for keeping quiet sometimes because she hasn't got anything to say. But nobody expected Diana to do anything except keep quiet. She brought down that facade and made the royal family human. Kate is wise to keep her thoughts to herself but people will scrutinise every smile, grimace and gesture. The fundamental reason for that is they know there is a real flesh and blood person wrapped up in that blanket of royal protocol and they want to find it. Diana made us aware of that."
Untold Story (Doubleday $39.99) is out now.