For those who love idiosyncratic and quirky style but with an elegant edge, Marni is a label worth a look.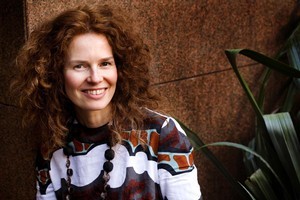 With a mass of curly hair blowing in the breeze the leggy brunette gliding across the carpark outside The French Cafe reminds me of an elegant giraffe - but maybe that's the African-inspired print of the gorgeous dress she's wearing. With sky-high heels, toeless black stockings and a butter-soft grey leather jacket, my lunch date stands out with an uber-elegant quirkiness.
A former model from Denmark, who now lives in New York, Ida Simonsen is the VP director of sales and marketing for leading Italian label Marni. She is in Auckland for 48 hours to catch up with designer Marilyn Sainty and her business partner Sonja Batt who stock Marni in their Scotties boutiques.
"Marni was established back in 1994 by Consuelo Castiglioni who had previously designed furs for her husband's fur business," says the delightful Simonsen as she tucks into the six-course degustation at The French Cafe. "She had carved out an impressive reputation for taking fur and modernising it with interesting cuts and finishes. Marni, which is named after Castiglioni's sister, was a result of her fur customers wanting something to wear underneath it."
Since then it's grown into an international brand thanks to idiosyncratic prints, vintage inspired shapes and quirky cuts. It is a brand with a reputation for attracting women who aren't afraid of colour and being individual. Unlike other Italian labels, Marni is not about overt sexiness. Instead, it has an intelligence which resonates with a certain type of woman.
"Sonja and I had watched Marni for a few seasons," explains Sainty about why they chose to bring the label to New Zealand, "and at the time there was a real shortage of colour and of prints. Marni seemed like a breath of fresh air in that it was modern and the prints were often quite special. There was a youthfulness about the range but it can be worn by a variety of ages.
"Our customers love the cashmere and the dresses especially in the painterly prints and they often work well for pear-shaped figures."
Doing things her own way is very much part of Castiglioni's ethos. She never advertises and very rarily does interviews (although her elegant homes have been featured on the pages of Vogue), preferring instead to let the clothes speak for themselves. Fans of the brand include the likes of Helena Christensen, Kirsten Dunst, Julia Roberts and Maggie Gyllenhaal - women with a love of all things eclectic and bohemian.
Thinking outside the square is an imperative part of the Marni psyche, and Castiglioni regularly collaborates with artists including Richard Prince, the American "appropriation" artist back in 2007.
In her summer 2009 collection, Castiglioni chose two prints from the watercolour series Faces in the Crowd by Kim Gordon, the artist and singer of Sonic Youth, and printed them on bags and T-shirts. In 2010 she collaborated with French artist Claude Caillol who had gained attention in the international art world for his freehand, naive drawings on recycled plastic shopping bags. Working from the Marni headquarters in Milan he turned the label's own shopping bags into works of art with a series of figurative and abstract motifs which were later displayed on the walls of the boutiques, while his imagery was printed on PVC totes with leather handles embellished with metal studs, while jersey T-shirts and dresses were treated with a transparent coating to look like PVC. And British artist Gary Hume - renowned for his use of bold blocks of colour - was responsible for the painterly and twisted approach to Marni's winter 2010/11 collections.
As Simonsen scoops out the last of her dessert with gusto, she chats about what she'll wear to the Met Ball, hosted by Vogue editor Anna Wintour, when she gets back to New York, and laughs about her hectic schedule flitting between Milan and the Big Apple. Personable, effervescent, effortlessly elegant, she is the perfect Marni woman.