This author's début is less than the sum of its brilliant parts.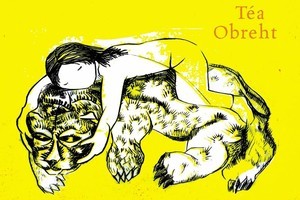 This début novel is getting a lot of attention partly because the author is so young (she is only 26), and because producing a work of such scope and complexity so early in her career is an achievement.
Tea Obreht will be in Auckland next month to talk about her book - which has been shortlisted for the Orange Prize - at the Writers & Readers Festival.
But is it really that good? The answer is yes, but only in parts. The Tiger's Wife is a book of brilliant moments.
The beginning is promising. In a Balkan country scarred by war a young doctor called Natalia is setting out to cross the border to deliver vaccines to an orphanage. On the way she discovers her beloved grandfather has died in a clinic in an obscure town no one knew he was visiting.
She starts to revisit her memories of him and the legends he has told her about his own life. "Everything necessary to understand my grandfather lies between two stories: the story of the tiger's wife and the story of the deathless man," she explains and then proceeds to tell both those tales.
Obreht was born in the former Yugoslavia but raised mostly in the US. Perhaps this novel is her attempt to come to terms with her country's chaotic and troubled history.
It's an ambitious and imaginative piece of fiction: she folds in folklore, superstition and legend - there is metaphor after metaphor, stories within stories.
There are poignant moments, too, and episodes that stay with you: the grandfather's final meal in the town that's about to be bombed to pieces, the elephant he and Natalia see walking through the boulevards of their city in the middle of the night, the story of the hungry but noble tiger's escape from the bombed zoo.
Obreht knows how to make a sentence sing but although her writing is beautiful and very clever, The Tiger's Wife reads too much like a short story that has been worked up into a novel.
Obreht has told interviewers she didn't write in a linear way, instead working on the chapters and passages that interested her most and then putting them all together. The trouble is you can see the joins - the main threads never weaving themselves properly into the fabric of the story. And however brilliant the parts that make up the whole might be, however compelling and striking the writing, I found it difficult to get past this flaw.