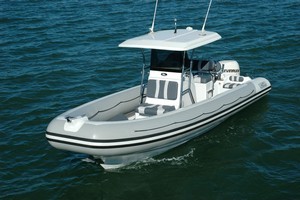 Mention big centre-console RIBs and most people think workboats. Tenders for superyachts, America's Cup support boats, harbour patrol craft, that type of thing.
But a small but rather enthusiastic market sees such vessels as rather excellent pleasure boats. These are the sort of people for whom a sports boat is a boat to go fishing, diving and water skiing and weather is something they just take with them.
The latest offering from the Smuggler Strata range, the 750, is a good example. It may not be very dry when it rains, it may offer minimal protection when it blows; it certainly has neither galley nor any place to rest.
What it does have, though, is a wicked 27-degree hull, a truckload of handy fishing and diving features and unimpeded access to the water from virtually every part of its hull.
What it also has is a rather interesting history. See its modern good looks, GRP mouldings and latest technology and it's easy to think that here is a completely new model, just conceived for the 2011 market.
But that's not even close. The latest Strata 750 is boat No 17 and boat No 1 first hit the water about seven years ago.
A collaboration between Smuggler Boats and Southern Pacific Inflatables, the first 750 was launched under the Southern Pacific brand and that company still offers its version under the name Vortex 750.
But the model is now fully owned by Smuggler Marine and is mainly marketed as a Smuggler Strata 750. Smuggler builds the hulls and superstructures and does the fit out, Southern Pacific supplies and fits the tubes.
Yet this boat's origin goes back even further than the mid 2000s.
The Smuggler hull on which the Strata 750 sits is considered by many to be the country's best-riding production hull. But it's not a New Zealand design; it's not even that recent.
The first Smuggler hull mould was "flopped" off a Bertram 20 hull by David Mutimer in Dunedin in the early 1970s. He copied a boat that was being built under licence in Melbourne. But the original Bertram 20 was designed in Miami and first went into production in 1964!
The Smuggler hull and the brand later moved around a fair bit, on both sides of the Tasman. Despite their incredibly impressive reputation for rough-water handling, the boats were never produced in enough numbers to gain anything but a cult following.
But that started to change when husband and wife team David and Pauline Pringle bought the moulds in 2002. Pringle, a true craftsman boatbuilder, at once saw the potential in updating the 47-year-old design.
He produced new moulds and incorporated some modern features, especially in the transom and deck areas. Recognising the incredible performance of the original hull form, he left that virtually untouched.
But in 2004 he did extend the transom, lengthening the running surface by 400mm and adding built-in trim tabs and a portofino stern.
The result is a hull that is still superb in the rough but modern in both its appearance and its ease of use.
The Pringles also set about completely revitalising the Smuggler brand. Using the new moulds, they produced a range of boats that not only found favour with Kiwi boaties but also attracted awards. In 2006, 2007, 2009 and 2010 they won prestigious and highly competitive Boat of the Show Awards at the Hutchwilco New Zealand Boat Show.
This Strata 750 uses the same hull as one of the those award-winners, the Smuggler 720 XS. But because it is a centre-console model it has far less GRP and resin, making it about 25 per cent lighter - and much faster.
For example, with an Evinrude ETEC 200HO, spinning a 21" Viper three-blade stainless prop to 5500 rpm, the Strata 750 will hit a top speed of 47 knots.
Power options for the Strata 750 range from 150hp to 300hp. With a 150 on the transom expect that top speed to drop to 38 knots.
But if going fast is really what it is all about, a 250hp outboard is reputed to push the 750 to 60 knots.
That highly valued deep vee doesn't seem to affect top speed too much and it doesn't appear to affect performance in other areas either. The Strata slips easily on to the plane, even at reasonably low revs, and there is no noticeable transition between being off plane and on.
The Strata 750 also runs nicely around 3500-4000 rpm at about 30 knots and has good economy: 35-40 litres an hour with the ETEC 200. Combined with a 320-litre fuel tank this gives a more-than-adequate range of about 300 nautical miles.
The Strata 750 may be open but it is not without its comforts. The centre console station is home for a fully plumbed toilet and a large dry stowage area. There is a zipped vinyl curtain for privacy and a brace of overhead opaque port lights let in ample light. It is also surprising how much space there is in the console.
Another feature worth attention is the clever way the Pringles have designed the anchor to run through the 740's stem. The entire unit is almost invisible and, best of all, is operated from the helm.
The bow has V-shaped seating with dry storage beneath and an optional cushion can convert this area into a sunpad. There is also a large wet locker in the cockpit sole.
Ahead of the centre console is a large chilly bin seat big enough for two and with a padded back rest.
The console has a sturdy acrylic forward screen and the fibreglass bimini offers some protection from the elements. The dash can take a 12" display and there is plenty of room for the other electronics.
The helm seat is a new design and includes a built-in dive bottle rack (able to handle up to six bottles). It has seating for two, a reversible backrest and includes six rod holders.
There is also a built-in live bait tank under the port aft seat, a central bait station between the two transom seats and a large under-sole wet locker that doubles as a fish bin.
Divers, swimmers and skiers will also like the three-tier drop-down ladder and the teak treads on the aft deck area. In this case, the carpet is removable with a non-skid deck liner underneath, although owners can choose to fit Tek Dek flexible decking.
As Weekend Marine went to press, it was not known whether Smuggler had entered the Strata 750 into this year's Boat of the Show awards.
But the boat will be at the show and, regardless of whether it collects another award for the Pringles, it is sure to attract attention from those who boat primarily to fish and dive.
Smuggler Strata 750
LOA: 7.5 metres
Beam: 2.8 metres
Deadrise: 27 degrees
Construction: GRP hull/hypalon tubes
Trailerable Weight: 1600kg (dry)
Engine Capacity: 150-300hp
Power Options: Outboard or sterndrive
Fuel Capacity: 320 litres
Packages from: $86,000
Price As Tested: $119,000
Want to know more?
Check out Barry Thompson's boat test on the Smuggler Strata 750 in the inaugural issue of Pacific MotorBoat magazine.
Find out more
facebook.com