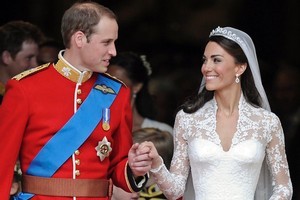 Prince William's joke
Prince William cracked a joke to his father-in-law at the altar before the ceremony, saying: "We're supposed to have just a small family affair", a lip-reader claims. The joke by William to Michael Middleton in Westminster Abbey was spotted by Tina Lannin, lip-reader for O'Malley Communications. She also spotted Prince Harry nervously comment, "Right, she is here now", as Catherine Middleton arrived at the abbey.
Bookies know their stuff
The Queen wore a yellow hat to the big day, and in doing so demonstrated that the bookies do know their stuff. Centrebet had the colour as favourite at $3 in its royal wedding markets, slightly less than light blue/blue at $3.10. The bookmakers also favour Prince William and Kate Middleton to have their first child in the second half of next year. Apparently the royal gene pool slightly favours the first-born being a boy at $1.85 over a girl at $1.90. Twins will pay out $15.
Cancelled trips
Richie McCaw wasn't the only rugby player to put his code ahead of an invitation.
Ireland captain Brian O'Driscoll also declined, because it would have interrupted the preparation for his club Leinster's Heineken Cup match today. Japan's Imperial family turned their invitations down, but for rather more serious reasons. Crown Prince Naruhito and Crown Princess Masako cancelled their trip following the earthquake and tsunami in their country.
Syrian ambassador uninvited
An invitation to the Syrian ambassador was withdrawn after an outcry over his Government's brutal crackdown on democracy protesters. But there was room for other controversial figures on the 1900-guest list. Swaziland's King Mswati III, Africa's last absolute monarch, flew an entourage of nearly 50 to London, including at least one of his 14 wives. Protesters were planning to disrupt the King's trip, after he put down planned pro-democracy protests in Swaziland last month.
Vuvuzelas at wedding
The thousands camped out around the wedding procession were in a fine mood, reportedly even cheered a sanitation truck, whose driver duly offered a royal wave. But even an event with as much class as a royal wedding couldn't escape the cursed vuvuzelas, the plastic horns that drowned out the football World Cup in South Africa. Sarah Bell of the BBC reported the crowds were being sold Union Jack flags and hot tea, but complained: "Wish the chap selling vuvuzelas would clear off."
Commonwealth hysteria
Royal fever predictably swept across Commonwealth countries such as New Zealand and Australia, leading some to speculate that republican movements there had been set back by years. But the hysteria reached much further than that - earlier this month a Chinese couple spent 50,000 yuan ($10,000) on a themed wedding replete with horses, uniformed guards, and Union flags.
Non-royalists appeased
For those wanting to escape royal wedding fever and the all-consuming media coverage, left-leaning British newspaper the Guardian had a simple solution. By pushing a button marked for Republicans, all wedding stories and pictures on the paper's website suddenly vanished and were replaced with other news.