If you've been put off making a curry because it seems too involved, veteran cookbook author Madhur Jaffrey proves that it needn't be the case.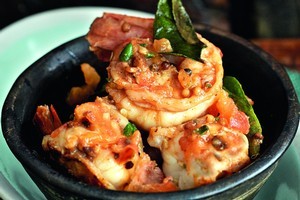 When people talk about cross-over artists, it is rare that they mean the combination of skills of Indian cooking writer Madhur Jaffrey. Jaffrey was a RADA graduate with more than 20 films to her credit (including the Merchant Ivory classic Heat and Dust) who then became an early TV food personality and cooking writer. Long regarded as one of the world authorities on Indian food since her first book An Invitation to Indian Cookery launched in 1973, Jaffery has published move than 15 best-selling books, appeared in numerous TV shows and won award after award. Interestingly, this latest book Curry Easy is one of her simplest - which may explain why it won the British Sunday Times Cookery Book of the Year - as Madhur Jaffrey shows us that Indian food need not be complicated nor involve hours in the kitchen.
The book ranges over 150 recipes, but always with an eye to simple methods, using a few key spices and only a few steps. Her favourite shortcut is to marinate the meat in all the spices and seasonings and bake in the oven, eliminating the usual steps of browning wet and dry spices and the meat itself.
Instead the browning happens on its own, with equally delicious effect. Dishes range from chicken and potato curry from Lucknow; prawn stir fry from Benghal to a Sri Lankan beef with coconut, and many dishes can be served with Western accompaniments. Gorgeous colour photography, taken in Madhur's country home in upstate New York are a treat.
If you find your "Indian" cooking stuck in a rut, the chapters on dal, rice and breads, and the relishes and accompaniments will have you reaching for the pans, as they have all the tastes of India with the minimum of work.
Prawns with garlic & chillies
This is easily one of my favourite first courses for dinner parties.
Serves 4
12 raw jumbo prawns, peeled and deveined
1/8 - 1/4 teaspoon cayenne pepper, or to taste freshly ground black pepper
1/4 teaspoon salt
1 teaspoon finely chopped fresh hot green chillies
2 tablespoons olive, rapeseed or peanut oil
1/2 teaspoon whole brown or yellow mustard seeds
1 large clove garlic, peeled and finely chopped
15 fresh curry leaves or 10 fresh basil leaves, torn
5 tablespoons grated tomato
1 Wash the prawns well. Leave in a sieve for a while, then pat dry. Put in a bowl.
2 Add the cayenne pepper, pepper, salt and chillies. Mix well. The prawns may be covered and refrigerated until needed.
3 Put the oil in a karahi, wok or frying pan and set over a medium-high heat. When hot, put in the mustard seeds. As soon as they begin to pop, a matter of seconds, add the garlic and stir once or twice.
4 Quickly put in the prawns and curry leaves. Stir a few times.
5 To grate the tomato, use the coarsest side of the grater, press the tomato firmly to break the skin and grate off as much flesh as possible until only the skin is left.
6 Add the grated tomato. Stir a few times. Turn the heat down to medium-low and let the prawns cook gently, stirring just until they turn opaque, a matter of 2 or 3 minutes. Serve immediately.
* From Curry Easy by Madhur Jaffrey, $57.99, published by Ebury Press, distributed by Random House.
Be in to win
Madhur Jaffrey will be appearing at a special Lunch at the Langham for Auckland Writers and Readers Festival on Sunday May 15 from 1-3pm, where the chefs prepare dishes from Curry Easy and Madhur Jaffrey shares anecdotes. Weekend Life has two tickets to the event plus one copy of Curry Easy by Madhur Jaffrey to give away.
To enter, email your contact details to life@nzherald.co.nz with "Madhur Jaffrey" on the subject line by Thursday May 5.