Kay McFarlane and Michael Holmes have lived in Mt Albert for 10 years with their sons Tom, 14, Samuel, 5, and Oscar, 4. They run their business, Michael Holmes Premium Eyewear in High St and Newmarket. They tell Catherine Smith what they love about their neighbourhood.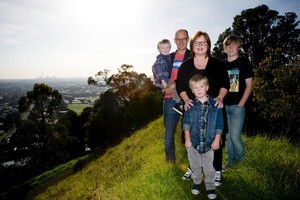 I grew up in Mt Albert, but Michael is from Yorkshire. We did London and then Michael showed me horrendous parts of England so we'd really want to come back to New Zealand.
When we needed to come back to Auckland for our business 10 years ago, we went househunting and looked everywhere - I wasn't about to come back to Mt Albert. Then we found the perfect house with a big section, lovely streets of trees and it was so peaceful and close to the city. So we fell into this area again, really.
For us it's about fantastic neighbours, we get on so well, it's not a cafe society. It's an exceptional community, there are kids all around, everyone picks up each others' kids.
When someone's sick or something there'll be a knock on the door with help, meals, taking the baby for a walk. It's like the 1950s, but in a good way; a lot of people in other places don't even wave to their neighbours.
It's a great community for the kids, you know all the families of the boys, the high school kids can all walk to St Lukes for the movies, or to meet up at the food hall. They ride bikes to their friends' place - it's a real community like that. Mt Albert Grammar is a fantastic school, there's a lovely sense of caring, the kids are divine, there are fantastic teachers who all care, and a principal and deputy who are really visible. And Tom's really happy, he can roll out of bed and be at school in three minutes - he's timed it.
The little ones love the farm at the school, we take them in the weekends to feed the lambs or chickens or sit on the tractor. For the little ones, Bright Beginnings is inspired. It's just opposite Rocket Park, which has served generations of kids, or there's Fowlds Park which is safe for kids.
There's always something on the mountain - the kids called it Dragon Mountain, ever hopeful, but we've been hunting dragons with no luck. We did see the army on exercise up there, but again, sadly, no weapons. The Mt Albert Aquatic Centre wave pool is only a few minutes away, it's good for lessons for the little ones or a meeting spot for Tom and his mates.
Our bit for being green is that we have only one car - Michael rides to work, into Newmarket. The most unlikely spot for a cafe is Cosset, right next to Pak'n Save. Rowan and Kelly both do divine vegetarian, dairy- and gluten-free food and they love the kids.
We'll go to the Pyrenees French deli opposite Rocket Park or the dairy, which is still old-fashioned with icecreams and $1 bags of sweets. Sol Rose is a good Italian. There's great Chinese on Mt Albert Rd and for Indian we head into Sandringham Rd. Michael is the foodie, so he'll bike to Nosh on Dominion Rd or the Westmere Butchery.
It really is a country town in the middle of the city, it's so lovely when you work in busy parts of town to come home to the smell of mowing lawns, the streets of old villas - it takes you back to your childhood. We walk up the mountain and we say to each other, "This is a beautiful city." We don't ever forget that.
Kay and Michael's picks
Mt Albert Grammar School Farm, 40B Alberton Ave, Mt Albert. A slice of farm life with bookable guided tours for groups. Contact the farm manager on (09) 846 0796 or email lamper@xtra.co.nz
Mt Albert (Owairaka Domain), 27 Summit Dr, Mt Albert
Cosset Cafe, 1087 New North Rd, Mt Albert, ph (09) 846 0655
Pyrenees the French Deli, 756 New North Rd, Mt Albert, ph (09) 846 8561
Bright Beginnings Early Childhood Education Centre, 32 Wairere Ave, Mt Albert, ph (09) 846 5733
Rocket Park, cnr New North Rd and Wairere Ave, or Fowlds Park, 50 Western Springs Rd
Mt Albert Aquatic Centre, 38 Alberton Ave, Mt Albert, ph (09) 815 7005