Bingo is the latest retro activity to make a comeback - but this is bingo with a sense of humour, finds Cate Foster at an Auckland nightspot.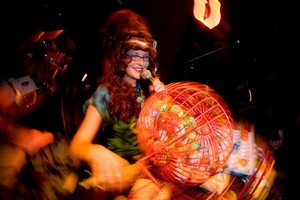 If you haven't yet heard about what its inventor fondly calls "performance bingo", which is creating a stir in downtown Auckland, then perhaps it's time you did. I'd heard rumours of bingo as you'd never seen it before and, after a bit of research, found yes, it did exist, and yes, it was open to all who wanted a cheap and cheerful night out.
Bitchin' Bingo bears little resemble to the bingo of yesteryear. Sure there's the ball tumbler, a caller of the numbers and a range of prizes. But there the similarity to bingo as you know it ends. For a start there's Mistress Viv, the Bitchin' Queen herself. How to describe her of the towering beehive and the ever-inventive rhyming calls, who happily admits she's "all woman" but who presents a stage persona that bears a resemblance to a newly emerged transvestite who just hasn't yet left the wider reaches of bling attire behind? Lofty heels, a hole in her tights, happily applied lipstick, and yes, that beehive. Viv is certainly all-woman, but oh what a ironic poke at modern womanhood she is.
And that's before she opens her mouth. These are calls that our parents probably wouldn't have heard down at the RSA in times gone by.
Viv's calls manage to fuse the unlikely with the subversive, the risque with Kiwiana, and saucy innuendo and irreverent wit.
"No. 2, honeymoon in Manawatu, No. 7, Patrick Swayze's in heaven, No. 29, That lump's benign, No. 21, drink to your mum," are a few suitable for publication.
Viv has fun tailoring her commentary to the occasion. On the night we went the crowd was mostly under 30 and happy and irreverent so anything went. Prizes ranged from a voucher for a Brazilian at Ruby Waxx Beauty Salon to a $30 bar tab. The young guy who won the Brazilian looked a bit uncertain but the crowd loved it. I was dying to win so I could leap to my feet waving my arms in the air screeching "BINGO!", but game after game seemed to go to the lucky table at the rear.
My friend summed it up. Like me, a bingo beginner, she hadn't known what to expect either but she hit the nail on the head.
"It's like a pub quiz without having to think. All you've got to do is be able to focus on the numbers on the sheet."
We just about could, though with the lights being nightclub-dim, sometimes there was a bit of guess work involved. None of it mattered though because I haven't laughed so much for weeks, even though I didn't win the meat pack. How many nights out can you spend $7 for 1 hours of hilarity? we asked each other as we tumbled down the stairs.
The next day I had coffee with organiser Tineke van der Walle. In her real life she's a serious career woman but hit on the little sideline of Bitchin' Bingo when she and her friends could no longer find a place to play Housie.
She wants like to expand her business to include weekend events, although at the moment the only regular gig is every second Wednesday at Cassette Nine. Already she does the odd corporate function at weekends, although she thinks she'll need a Mistress Bev or Barbara to help if she gets any bigger.
So if you fancy yourself as a fount of post-modern irony, Tineke is waiting for your call.
Get involved
Bitchin' Bingo, Cassette Number Nine, Vulcan Lane. Next sessions are May 4, May 18 and June 1. Ph Tineke 021 992 080, btchnbingo@gmail.com.