Herald Rating: 5/5
Address: 7 Teed St, Newmarket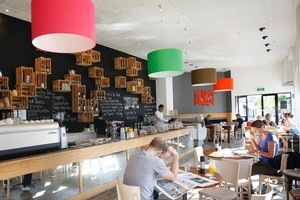 We came here because word had reached us that the counter treats in this place were hard to beat, and so we anticipated the same for menu items.
Parking was frustrating, the street was full. Two Double Seven is not far away though.
We walked in and immediately thought what a good idea to advertise on the blackboard what time all the baked goods come out of the oven. And seeing all of that temptation displayed on the counter meant that we walked out with afternoon tea too.
The most unusual things on the menu were the cauliflower fritters with curry oil and cucumber and dill raita ($16.50).
We ordered the pan-fried chicken livers and mushrooms in a madeira cream sauce, with bacon ($22), and delighted in every cholesterol-raising mouthful. Our side of potato rosti ($5.50) wasn't strictly necessary but was demolished nonetheless - finely grated, crispy and very tasty. Our other choice - Valrhona chocolate pancakes ($17.50) - were thick, fluffy and chocolatey, and perfectly balanced with a cherry compote and mascarpone.
The service was attentive. And despite the busyness and our hunger, the wait on the meals was bearable.
The coffee was not the best we've ever had, but still did the trick.
We recommend if you come here you buy up large. Everything we tried had us in raptures, including the various tarts we took home.
Overall we thought we haven't been this impressed with a cafe experience in quite some time.