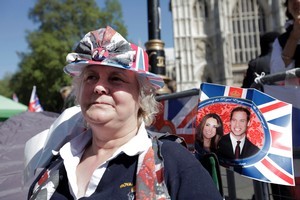 Forget the official stuff. If you really want to remember the big day, why not splash out on souvenir loo seats, condoms or sick bags.
Kate and William have approved a number of items as official souvenirs - including china plates and monogrammed tankards - but it seems some retailers are willing to slap the couple's names on just about anything in the hope of making a quick buck.
Some are kitsch, others are verging on the plain insulting. Amazon and other web shops have a white loo seat featuring the grinning couple for those wanting to give their own porcelain "throne" a royal makeover.
If you prefer to lie back and think of England as Wills and Kate tie the knot, some Crown Jewels condoms might come in handy.
Available in boxes of three or nine, each condom is decorated with a portrait of the royal couple.
The Crown Jewels website claims the condoms combine "the strength of a Prince with the yielding sensitivity of a Princess-to-be" and "promise a royal union of pleasure".
Not feeling the love? Well maybe a commemorative sick bag is in order.
The bags are available in royal blue or postbox red and feature a sketch of the royal couple along with the messages "throne up" and "keep this bag handy on April 29th".
There are dozens of websites offering cushions, champagne flutes and garden gnomes, candles, umbrellas, doggie clothing, tea towels, tea caddies, cake decorations, bookmarks, fridge magnets, comic books, dolls, coins and stamps.
Electronics giant GE is offering its customers the chance to have new fridges customised with a huge picture of the happy couple.
There's plenty of cheap copies of Kate's priceless sapphire engagement ring, and even a set of knuckledusters it has inspired.
Many souvenirs have been made in China and some carry the odd mistake, such as depicting Prince Harry as the groom. But it's the thought that counts.
- AAP