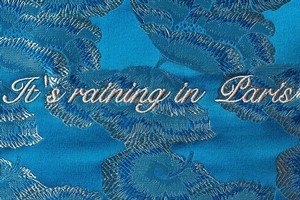 The lost art of embroidery, once the sign of domesticity and an accomplished gentlewoman, is examined and celebrated by artist Deborah Crowe with a display at Objectspace. Crowe takes the seemingly solitary pastime and brings it into modern day, using various fabrics, from retro florals to delicate lace, and embroidering on to them sound bites, lyrics and critical commentary. Her installation is on display now in the window of Ponsonby Rd gallery Objectspace; these images were taken by local photographer Mark McClean. Talk, Objectspace Window Gallery, 8 Ponsonby Rd, until May 4.
Who's special in Sydney?
International guests attending Rosemount Australian Fashion Week next week have been announced, and it's impressive to see the number of credible bloggers. Street-style photographer Tommy Ton, of the blog Jak and Jil, and fashion blogger Susie Lau, better known as Susie Bubble, will return again after visiting Sydney last year. We're excited about the attendance of Imran Amed, the founder and editor of this fantastic website.
Viva will be in Sydney for RAFW, with fashion writer Zoe Walker writing daily reports at the NZ Herald's website.
Back to black
The search for iconic black pieces continues in the lead-up to the New Zealand Fashion Museum's "Black In Fashion" exhibition. An earlier call for pieces in Viva turned up a black 1951 National Soccer Team Jersey, The Chills "Soft Bomb" black jersey with polo neck from 1992, and a Victorian mourning costume.
Curator Doris de Pont is still on the look-out for black treasures from our fashion and cultural history, including pieces from Karen Walker's "Escape Artiste" collection shown in London in 1999, Ray Columbus' "mod" stovepipe pants and Beatle boots, the black T-shirt worn by Jake the Muss, Billy T James' black singlet, Fred Dagg's gumboots, John Walker's Olympic uniform and more. If you can help, contact de Pont at doris@fashionmuseum.co.nz, or 021 680 860.
Coachella style
Best dressed at the three-day Coachella music festival in California last week? We nominate Lauryn Hill, in a blue and white striped dress by Jil Sander, and Kanye West, who wore a patterned Celine silk shirt from the Spring 2011 womenswear collection. Meanwhile TV presenter and "It" girl Alexa Chung teamed her signature festival denim cut-offs with a pair of Karen Walker 'Number Six' round sunglasses.
Tops in Mt Eden
AS Colour has opened a new store in Auckland, right on the corner of the Symonds St and Mt Eden Rd intersection. The store, which opened last week, has racks of basic, plain tees, singlets, merino and more - we want the black and white men's raglan tee. Shop now at 1 Mt Eden Rd.
Online area
Streetwear and fashion boutique Area 51 has just launched an online store, with new season collections from Huffer, Lonely Hearts, Stolen Girlfriends Club, Standard Issue, Nudie Jeans and more. Peruse the offerings now.
Reality beauty
Have you always wanted fashion advice from a reality-TV star? Head to TheBeautyDepartment.com - it's the new website from ex-The Hills star Lauren Conrad, who offers beauty tips with her makeup artist and hairstylist.
Nothing but netball
Attention netballers: Hamilton-based Samantha Lee has launched an online store dedicated to all things netball, from shoes to bags to uniforms. Visit the physical showroom at Hamilton City Netball Centre, Moore St, Forest Lake.
A new you
Want a personal shopping consultation with Lorraine Downes? The former Miss Universe is offering her services to Newmarket shoppers, as part of the "Nine Days to a New You" campaign which starts this Saturday (book through her website above). The nine-day long schedule of events touches on various aspects including health, fitness, makeup, skincare, haircare, clothing and more. Events include style workshops each day in various Newmarket stores, expert hair and beauty advice from the Wax Off Brow Bar, Mecca Cosmetica and Servilles Newmarket, and accessorising advice from Mimco, Ziera shoes and Michael Holmes Premium Eyewear. Each session is limited to around 50 guests, with tickets $20. For more information on sessions and to buy tickets click here.