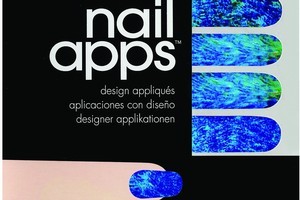 Lady Gaga loves them - the crazier the better - Beyonce goes for gold and Katy Perry wore them to the MTV awards. We're talking about Minx nails, the fashion nail coating that has been popping up in shoots and shows overseas for several seasons. You may have spotted local fashion-forward types getting in on the act recently - Sara Tetro, director of 62 Models, is a fan, stylists have been checking out the hundreds of crazy designs and, for her recent wedding, M.A.C's communications manager, Tatum Savage, covered her fingernails with a white Minx pattern called Bridal Lace from Auckland Minx specialist salon, Magic Tan & Beauty.
Expect this decorative nail mania to become more apparent, with O.P.I launching its stick-on version called Nail Apps in 12 patterns, including argyles, checks, florals, hearts, tiger print and peacock feathers. The selling point is Nail Apps can be used at home but the downside is, O.P.I says, they will last just one to two days. Perfect for party people, but not as robust as the salon product Minx which is moulded in place and heat-sealed, lasting around a week, longer on toenails. Nail Apps cost $29.99 and will be available in Life pharmacies, Farmers, Smith & Caughey's and nail bars, click here to find your nearest stockist.
A Minx service costs $65 for fingers and $85 for toes at Magic Tan & Beauty, Remuera and One Tree Hill.
VIP Viva
Make Mum's day - or treat yourself - with our MOR Mother's Day giveaway. We have five bottles of MOR's new Marshmallow fragrance to win. The eau de parfum is beautifully boxed and comes in an elegant faceted 100ml glass bottle, with an enticingly warm floral scent. Think vanilla and jasmine flower, sugar-dipped rose petals and white carnation with musk and cotton candy notes. MOR is available from selected department and gift stores or visit the site for an extensive range of special occasion presents.
To enter simply email your name, address and contact phone number to vipviva@nzherald.co.nz with "MOR Marshmallow" in the subject line. Entries close May 2, winners announced May 4.
Salon solution
What is claimed to be the first fibre-filling procedure for over-processed hair is now available in salons. Working more intensively than a mask, L'Oreal Professionnel's Fiberceutic treatment is designed to revive trashed tresses, by injecting them with a so-called "miracle molecule" to strengthen hair structure at its core. Instead of cutting off very damaged hair, this emergency treatment can be used. It interacts with keratin to plump the hair fibre and has an effect that lasts for around 10 shampoos. Hayley Pullyn, national technical manager for L'Oreal Professionnel, says the treatment is applied precisely with a syringe applicator. Once in contact with water at room temperature the gel solution becomes solid, leaving hair soft. Repeat in-salon treatments are recommended, with the price per service starting from $50.