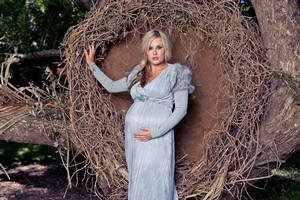 Too short. Too tight. Too baggy. Too awful ...
Finding clothes that fit and don't make people laugh becomes the bane of every pregnancy. You have a tight budget with a baby on the way but still need to be able to go out in public.
So how do modern women handle the dilemma of what to wear with a bump? PR consultant Fiona McLeod hated the limitations on her usual eye-catching flair.
"Nothing looks fabulous - you just have to grin and bear it. I bought three pairs of maternity jeans on sale and lived in them during the last few months. Everything else I tried was awful and nothing would fit," she says, "but I probably wouldn't have bought them at full price."
Stylist Susan Axford says cost is a major factor in the clothes women choose to wear while pregnant - especially when most items only fit for a matter of weeks. All women admit to buying bigger clothes from cheaper stores to get through the trying times. But it's not a habit the stylists recommend.
"You can look quite big in all the wrong places," says Axford. Clothing generally doesn't sit well across the shoulders and makes you look bigger.
While most women want to keep up with trends, Axford suggests we stay true to our own style during pregnancy.
"If you have always been flamboyant with colour, stay that way and feel confident with it. No one's going to look good if she doesn't feel confident."
But fashion has fortunately shifted in favour of pregnant women. Compared with unworkable mini-skirts, jumpsuits and crop tops of days gone by, today's trends allow pregnant women to wear some of the latest looks. Choices like the flattering empire-line dress and loose fitting tunics are keeping pregnant women sane.
"The variety has improved and modernness. It's actually possible to look quite fashionable, rather than just pregnant," Axford adds.
On top of that, the trend for pregnant bellies has also shifted. More women are showing-off their growing bumps in figure-hugging fabric and their usual T-shirts or roomy tops, compared with a fixation of concealing the bump 30 years before.
"The emphasis is more on being proud of your body changes rather than concealing it with the terrible sacks women wore a couple of generations ago. They literally swamped themselves in clothing," says Axford.
That awareness of still being able to look gorgeous during pregnancy has given birth to a handful of designer's maternity clothing brands in New Zealand over the past 10 years.
Three well-known labels - Egg, Mama2b and Hot Milk lingerie - all sell predominantly online. At least one other company - maternitydirect.co.nz - is bringing imported brands to New Zealand women as well as the local labels.
So, with the internet allowing people to shop from the comfort of home, maternity clothes are now much easier for New Zealand women to find. But how much are we prepared to pay for something rather short-lived?
Prices at Egg range from around $39 for a pair of jean leggings to their most expensive item, a designer ball dress, at $295.
Designer and director Charlotte Devereux says the company is conscious of price point and have focused on garments people want to wear afterwards, like breastfeeding tops and classic merinos.
The bottom line though, fortunately for Egg, is that more women are becoming aware of maternity clothing as fashionable and are prepared to look for quality, says Devereux. Jeans are by far the company's biggest seller, with a range of eight different styles in stock priced from $39 for leggings to $169 for the popular 9 Jeans.
"They are certainly the one item that is very hard to get away with a normal fit," says Devereux. "Maternity trousers are so much more comfortable - and more women are seeing the benefits."
Devereux, who has recently launched her own designer label of clothing, says making clothes for bodies that continually change is no easy task. On top of that, women all have different tastes on what fit they prefer - for example, with skirts or trousers that sit over or below the bump.
But the business is expecting further growth, as it branches out with a range of accessories, underwear, tummy belts and baby bags also now on offer.
Maternity labels did prove their worth for journalist Lauren Mentjox, who was initially reluctant to spend $200 on a dress she couldn't wear afterwards.
"I bought a couple of things from Egg - a dress which I lived in all the time for one pregnancy and a tunic - and they definitely did fit better than the cheaper stuff."