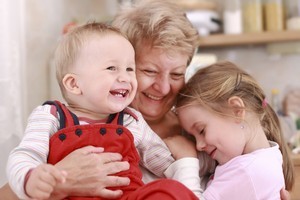 In these days of single parent families and working mothers, having Nana or Gramps look after their kids' children is a boon. Or is it?
Single parenting is on the rise - a reflection of our increasingly complex, diverse and sexually liberated society. According to the Single Parents Trust, less than half of adults are married today, while a fifth live with a partner.
In the third quarter of 2009, Statistics New Zealand predicted that single parenting would increase from 31 per cent in 2001, to 38 per cent in 2021 - just a decade away from now.
So, with a third of our population already solo parents, having the support of a grandparent is a blessing in disguise. Lynda Denton (name changed for privacy) is a classic example of a modern-day grandmother heavily involved in raising a grandchild. Lynda is a nana aged 48, with a full-time job at a publishing house and she supports her daughter Hannah, who has 1-year-old son Nick.
Hannah was 25 years old and a recovering methamphetamine addict when she found out that she was three months pregnant. The child's father is not involved in his son's life.
Lynda and Hannah seem to have a well-organised, symbiotic child-rearing arrangement. Lynda lives in the top section of her own home, while Hannah and Nick are settled into the self-contained downstairs. "This gives us both our space and independence," Lynda says.
Lynda describes their child-raising routine as "being a bit like Mum and Dad". She says a normal day looks like this: "I get up at dawn, wake Hannah and Nick up, and take the little one upstairs to feed and dress him. That takes the edge off Hannah and gives her time to get ready for uni, where she takes a course in retail management and computers. Then Hannah takes Nick to childcare - which he absolutely loves - and gives me time to get ready for work."
At night, Hannah usually cooks dinner, and has Nick fed and bathed by the time Lynda gets home. Then, Lynda takes over again to give Hannah some time to study or relax before bedtime.
"I feel hugely protective over Nick and really enjoy caring for him," Lynda says. "In the beginning, I almost felt a bit guilty because I almost enjoy raising him more than my own child in the sense that I now have the experience of what to do. When you have your own child, there's a lot of trial and error. It's really unfortunate they don't have classes on how to be a parent!"
This scenario is also history repeating itself. Lynda's mother Rebecca helped raise Hannah while Lynda had to work full time. That gave Rebecca and her husband, who'd spent much of Lynda's childhood away from home in the navy, their first real chance to raise a child as a couple.
"Dad was 65 and Mum 58; they were both retired and just loved the experience - it gave them a purpose in life."
It was Rebecca, too, who took Hannah under her wing when she was pregnant. "She taught her how to cook, save money and was hugely helpful in getting her through her drug addiction and out of a depression."
So what are the up- and downsides of raising your grandchild? The only disadvantage Lynda could think off was the financial strain.
"I still buy things for them, so the upkeep can be expensive. But I do it gladly - after all, your kids are still your kids and I would do anything for them."
Finally, a few words of wisdom on the subject from the older generation. Melanie aka 'Gran' is a 91-year-old from Napier. She and 'Poppa' raised their grandson Jimmy from the age of five through to 11 when his parents separated. For Gran, raising her grandson then was no different from raising her own kids.
"Boys are boys, no matter what generation they come from."
Gran says she loved helping Jimmy through a difficult time. "Being such an active boy, he was always outside so it wasn't much trouble - except for the occasional broken window caused by cricket and rugby balls."