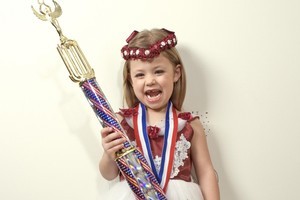 Toddlers, tiaras, tantrums and ... the occasional tragedy. It seems every parent has their opinion on getting children into modelling.
Documentaries on American beauty pageants would lead us to believe that for some, it's a chance to cash in on their child's cuteness, or live vicariously through their daughter's looks. But for some Kiwi parents, it's just a case of extending the scope of the family photographs on the mantlepiece, or to earn their kids some money for their future.
The image of JonBenet Ramsey, the 6-year old blonde American beauty princess who was found murdered under her parents' house was a unique and grisly case, but there are plenty of other reality programmes that show the seedy underbelly of child pageants.
American series Toddlers and Tiaras, which screened recently in New Zealand, showcased the controversial world of pageants, including cat-fights between mothers, cheating, and extreme procedures children as young as 6 were put through to enhance their looks - spray tans, fake eyelashes and tiny high heels.
While pageants of this nature aren't exactly high-profile here, there are plenty of "cutest baby" competitions that offer parents a chance to showcase their kids' good looks.
One of these is the Baby in the Tub competition, run through New Zealand parenting community Kidspot. General Manager Heidi Ivory says the competition typically attracts between 500 and 2000 applicants.
"Mums are exceptionally proud of their children they are the most important thing in the world to them. They want to show off their children to others. To a woman who has children, the most important job she will have is bringing up her child and if she can show off all her hard work and get recognition for it - then she is no different from someone in the workplace winning an award for something they developed or invented.
"Also mums have a natural maternal instinct which is shared with other children. We love to coo and clap at a gorgeous little baby or child doing something cute so mums naturally love to see other children," she says.
Ivory says it is always difficult to pick one child over the rest as the winner but, like any competition, there is a set of criteria. She says that in the five years she has worked for Kidspot she hasn't ever seen mothers act like they do on American television shows when their children don't win.
Some think that registering kids with modelling agencies is taking the idea of parental pride a step further but Kiwi mum Leigh Johnston disagrees. She registered her three pre-schoolers with a modelling agency because she thought the experience would teach them to follow instructions, and that it would set the children up with some money for their futures.
Her 3-year-old son recently appeared in a billboard campaign and his sister was in a television advertisement that ran for two years.
Johnston is quick to point out that if at any point her children became stressed or tired at a casting, she would take them home. If they ever tell her they don't want to sit in front of cameras she will remove them from the agency's books.
As yet, she hasn't experienced either of these scenarios but says she was careful to select an agency that had a child-friendly environment, and says she would urge others to do the same.
In Auckland most high-profile agencies such as Clyne Model Management, Red Eleven and 62 Models all have children on their books. Just like any other model, they must send in a photograph and will be called in for an interview if the agency is interested.
Johnston says that while modelling can be quite tiring, she expects her children will thank her for setting them up with a bank account, IRD number and income at such an early age.
"They'll have more money than their parents."