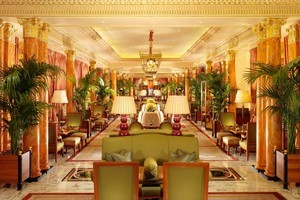 Truffles sparkling with gold leaf and £60,000 ($124,000) bottles of champagne are some of the treats awaiting foreign royals who descend on London for this week's wedding.
Forty crowned heads of state have been invited, with the Sultan of Brunei, the King of Tonga and the Crown Princess of Sweden (and her fitness-trainer husband, the Duke of Vastergotland) among those dropping anchor in Britain in the next two days.
The Dorchester Hotel will be picketed by Swazi demonstrators, protesting against the presence of the autocratic and polygamous King Mswati III of Swaziland, who will be staying upstairs with his 50-strong entourage, South Africa's Mail & Guardian newspaper reported.
The Langham Hotel's three penthouse suites were booked up long ago, before official wedding invites even went out. First to be booked was the Infinity Suite, a 235sq m room with views across the city. At the May Fair Hotel, sources said several members of European and Middle Eastern royal families have booked suites.
Other five-star hotels unsurprisingly booked out this week include the Connaught, the Berkeley, Claridge's - where the two penthouses come in at a mere £6300 apiece, and guests get personally monogrammed pillow cases and bathrobes - and the Hyatt Regency.
The £36,000 "royal opulence package" there allows six people to stay four nights in the royal suite, a 371sq m complex with marble bathrooms, private gym, baby grand piano, chauffeur-driven Daimler, chef and a butler who previously worked for the royal family.
As for entertainment, the foreign royals long ago made their bookings for nights out while they are in the UK.
On Thursday, the evening before the royal wedding, the Hakkasan Mayfair restaurant has a reservation for "an A-List" guest. The client has pre-ordered several signature dishes including the whole dried abalone (sea snails), priced at £328, and several rounds of the Peking duck with Royal Beluga caviar for £165 a plate.
Sketch restaurant has a reservation the same night in the Library Room, where a seven-course tasting menu costs £95 a head, for six guests, with a request for a table directly next to them for their security team. Other haunts popular with the visitors will include Abracadabra, home of especially expensive bubbly and particularly popular with Russian oligarchs, and the American brasserie Automat.
The foreign dignitaries' presence is already obvious on London streets according to James W.J. Wilson, a director with the luxury concierge service, AuWays.
"A lot of models are flying in at the moment, which is usually a sign that the wealthy will be in town," he said. "There are a lot of expensive import cars in town as well, chromed-out Phantoms with Arabic plates."
These are often accompanied by trucks carrying huge Louis Vuitton trunks.
Many royal wedding guests have been invited to satellite parties months in advance, with sheer wealth being the qualification for getting in.
"There's nothing worse for a billionaire than going to a party and being the only one there that's got any money," laughed one party organiser.
- INDEPENDENT